Boy sent home from school due to 'severe' haircut which he styled on his favourite footballer
Boy sent home from school due to his 'severe' haircut, which he styled on his favourite footballer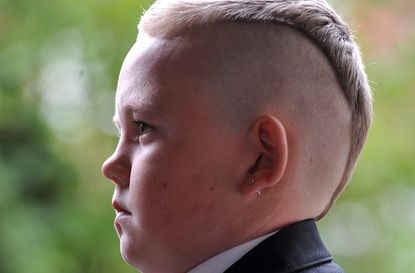 We all know that rules are rules.
And we all know that school rules in particular can be something of a minefield for parents, which was exactly the mistake that Garry Hill made when he arrived for his first day of secondary school at Astely Sports College in Dunkinfield, Cheshire.
Just moments after turning up, Garry was questioned about his eye-catching hairstyle, which he had modelled on his favourite footballer, Manchester City player, Sergio Aguero.
He was then told that his shoes were also deemed to be trainers and not proper school shoes before his mother Abigail, 30, was phoned to come and collect her son from the school due to his 'severe' haircut and unacceptable shoes.
Garry Hill was almost instantly sent home on his first day at secondary school for his 'severe' haircut.
Garry's dad, also called Garry, was furious when he heard the news and drove straight down to the school to complain. He said:
'I was told the haircut was unacceptable. I said I would take him home and shave out the lines. But then I was told his shoes were unacceptable.
'I told them I had bought them from Tresspass from their back to school range.
'They are solid shoes with proper rubber soles. They look like shoes. They are shoes. He'd been to the induction day in them and I was told they'd be fine.'
But Headteacher Eamonn Murphy insisted that the decision was final and that school rules and standards of dress and appearance are posted to parents before the start of the school term.
Manchester City fanatic, Garry, said he'd styled his hair on his favourite player, Sergio Aguero.
He explained that pupils who do not abide by the hairstyle rules are given an hour to rectify the situation and may borrow a pair of appropriate shoes until they have a new pair of their own.
He said: 'These are the rules and parents know them. If there's something where we feel we have done wrong, we will of course apologise.'
'We don't allow trainers at the school and that's in line with many schools today. He wasn't happy about that and he decided to take his son home.
'I have pointed out to Mr Hill that those rules are on our website and we have sent him a letter about it that actually trainers aren't appropriate. It could not be any easier.
The 'severe' haircut was enough to have Garry sent home from school.
'These are the standards we expect and that would have been very clear to parents and prospective parents.'
Father-of-six Garry then went home with his son and shaved out the two lines on the sides of his son's head.
He said: 'It was just ridiculous. It was his first day at a new school. I was happy to sort his hair and I could have got him more shoes at a later point.
'They could have just said 'we have a couple of issues with his hair and shoes' and it could have been sorted.
'I was willing to be flexible if they were. There was no mediation. My son is confused about the school.
'He doesn't know whether he wants to go back there or not. We're talking about getting him into a new school.'
The news comes on the same day that The Nottingham Post reported that 50 children had been sent home from Djanogly City Academy in Nottingham for wearing the wrong type of shoes.
Over 50 pupils were sent home from a school in Nottingham for wearing inappropriate footwear, including the Converse Chuck Taylor All Star Ox Leather Mono Trainer.
The school enforced a uniform crack-down on the first day back which saw over 100 pupils taken out of class and more than half of them sent home for wearing trainers and flip flops.
What do you think to sending kids home on account of inappropriate clothing or hairstyles? Let us know what you think by leaving a comment below.
Gemma Chandler is a lifestyle writer specialising in kids' educational media across a range of topics including nature, history, science and geography across digital, print, social media and video channels. She joined Creature & Co. at 2015, shortly becoming Digital Editor of National Geographic Kids magazine.