Hollyoaks actress Chelsee Healey FINALLY reveals her baby daughter's name
The new mum has shared a first snap as well as her chosen baby name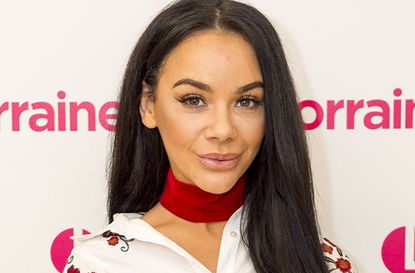 Hollyoaks actress Chelsee Healey has finally revealed the baby name (opens in new tab) she's chosen, weeks after welcoming her first child with boyfriend Jack Molloy (opens in new tab).
The new mum has been with boyfriend Jack - a car dealership worker - for three years and while the pair are super happy with their new little addition, they admitted they hadn't planned on starting a family.
'It wasn't something we'd planned but now we are having a baby we couldn't be happier,' Chelsee admitted before her daughter's birth.
The actress - who plays Goldie McQueen in the Channel 4 show and is best know for her role as Janeece Bryant in the BBC drama Waterloo Road - has managed to hide her little one's face and kept her name a secret since giving birth in July... until now.
Taking to her Instagram page, where she has over 297k followers, the 29-year old posted a beautiful image captioned simply with: 'The Day i Brought Coco Home 💗'
The tiny tot's full name is Coco Valentine Healey Molloy, and fans were quick to tell Chelsee that they 'adored' it.
'Aww you look gorgeous Hun and I'm loving her name lil coco bless her heart 😍😍😘😘❤️❤️', one said, while another commented: 'That's such a wonderful name bless yah 🔥🔥😘😘✨'
Fellow celeb, Luisa Zissman also praised the soap star's unusual choice of name: 'Love the name Coco, I adore Coco Chanel 💕'
In the same vein, the new mum also shared the first snap of her little one's face, with her 257k followers.
[instagram]
Chelsee has talked previously about how the birth was the 'hardest but best day' of her life, before adding that she didn't know what life was like without her daughter and that baby Coco has changed her life forever for the better, declaring that she loved her first born 'beyond words'.
According to NameBerry, the moniker Coco came to to prominence as the nickname of the French designer Chanel.
What do you think? Would you ever name your child Coco? Let us know in the comments box below.