14 of the best shoes for toddlers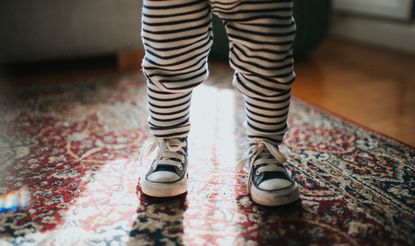 Whether your toddler is taking their first steps or they're a confident walker, deciding which shoes are best for toddlers can be a minefield.
First things first: when it comes to growing feet, size is important to allow them to develop healthily. Most top-quality shoe retailers will offer whole and half sizes from 2 to 10 in width fittings E to H. Roughly a size 4 will fit a 12-18 month old and a size 11 will fit a five year old - but remember all children grow at different rates.
Getting little feet measured by a trained professional is a great idea but, if squeezing in a fitting isn't possible, you can get a toddler shoe gauge delivered to your house and DIY.
Once you know how to choose shoes for toddlers and the key features to look for such as flexibility, durability and fit, there are a wide range of options out there. You want something functional but fun too, ones that they will love putting on, without tantrums!
The best shoes for toddlers need to be comfy, easy to get on and off and help support their little feet as they walk, run and play. The need to allow their feet to develop until they are ready for the best kids' trainers or the best kids' wellies.
But with so many adorable designs out there and with many different elements to think about, the pressure of choosing the best shoes for toddlers is intense! Luckily, that's where we come in. We've consulted the experts at Start Rite and scoured the shops to find the best shoes for toddlers that adults and kids will love.
Best shoes for toddlers
1. Peppa Pig Complete CLN 2 Shoes
Sizes: 3.5-9.5jnr | Fabric: Leather upper, vulcanised rubber outsole, textile lining
An ideal first shoe and perfect for jumping in muddy puddles, these super cute Jurassic-print and Peppa Pig shoes are specifically designed for toddlers' delicate feet. They have cushioned, removable sock liners to keep busy feet fresh, sinc kids' feet sweat twice as much as adults'. They also have vulcanised, abrasion-resistant rubber outsoles for active outside play, and hook-and-loop straps.
2. Digger print canvas pumps
Sizes: 3-10jnr | Fabric: Cotton, rubber sole
These pumps are excellent value for money. The cool cotton upper makes them perfect for warmer months and grippy rubber soles make them ideal for active days. The Velcro fastenings make it easy for independent little ones to put them on. They hug narrower feet (they are quite a wide fitting) plus the all-over digger print will make them a joy to wear. They're also wipe-clean if things get dirty, so there's no need to be too precious about messy play!
3. Old Soles Toddy Shoe
Sizes: 5-12jnr | Fabric: Leather, rubber sole
Fitting true to size with a medium width (go up a size if your child is in between), these have the look of a more grown-up trainer with the ease of a Velcro shoe. Crafted from soft leather and featuring heel support for comfort, they allow all the movement a growing foot needs. These shoes can also be wiped clean with a damp cloth.
4. Old Soles Hearty Runner
Sizes: 5-10.5jnr | Fabric: Leather, rubber sole
Supremely comfortable for growing feet, these cute shoes for toddlers have a breathable, soft leather lining, plus padded insoles to cushion every step and a flexible sole to allow growing feet to move naturally. We love the dash of funky colour from the cut-out hearts and the practical elements including the wipe-clean leather and fixed elastic laces. A handy side zip means these are easier for kids to put on and take off easily.
5. Geox Kaytan Baby
Sizes: 2.5-8.5jnr | Fabric: Leather
One for early walkers, these closed-toe sandals have a sweet silver design that kids will love. And when it comes to technical details they have everything covered too. Lightweight and flexible, they are cushioned for comfort and protection. Made from non-toxic, chrome-free leather, they have excellent grip for playing anywhere.
6. Kids Freshfeet Rainbow Riptape Trainers
Sizes: 3S-13S | Fabric: Other materials, textile
M&S has been helping time-short parents out for over 100 years, with the launch of its childrenswear range in the 1920s and trademark antibacterial Freshfeet technology designed to keep kids' feet fresher for longer. Little ones and adults will love this fun, playful pair. Not just sparkly and vegan friendly, they're functional too with a rip-tape fastening making them easy for kids to take on and off themselves. Good value for money, they're a great everyday pair of shoes.
7. Jelly Sandal
Sizes: 4-11jnr | Fabric: Phthalate and BPA-free PVC
These wipe-clean jelly sandals are a bestseller with a heap of five-star reviews and we can see why. Not just reserved for the beach, they'll work for the playground too - or whatever other mischief they get up to. They have a supportive, cushioned insole that can be removed for fast-drying after getting wet. The buckle decoration adds a smart touch and the Velcro fastening makes the shoe easy to whip on and off. Available in four chic shades.
8. Clarks Nova Early Toddler
Sizes: 4-12.5jnr, width fitting F-G | Fabric: Leather with textile lining and sole
Clarks have been making shoes for almost 200 years with half sizes and an option of width fittings ensuring growing feet get the healthiest and comfiest fit possible. A fun find from Clarks, this playful pair will look cool, while the technical details will keep parents happy too. Designed with a toddler's gait in mind to aid natural development, the shoe's lining is made from responsibly-sourced leather and at least 50% recycled materials. Meanwhile, the antibacterial Agion lining will keep active feet fresh.
9. Converse 2V Infants Unicorn Trainers
Sizes: 2-9jnr | Fabric: Textile and rubber sole
These pink plimsolls with unicorn print will put a real spring in their step with a strong, yet flexible, vulcanised rubber role. Fastened with Velcro straps, there's also a blue ribbon loop at the back for easy putting on and taking off. Remove any light marks with a damp sponge or cloth to keep them looking lovely for longer.
10. Lottie Pink leather girls T-bar buckle pre-school shoes
Sizes: 4-12.5jnr, width fitting F | Fabric: Leather
Start-Rite has been proudly making children's shoes since 1792. Designers work with biomechanics experts to create shoes that support the physical development of your child, plus whole, half and multi-width fittings mean you'll always get a great fit. This classic design is a must-have in your little one's shoe collection. Not only are they oh-so-adorable but they have everything you need to keep their feet supported too. There have padded ankles for extra comfort, leather linings to keep feet dry and a secure buckle fastening that's easy to adjust. We love the baby pink for a pop of colour and a modern update on the timeless style.
11. Poco Nido Carousel Toddler Mini Shoes
Sizes: 5jnr | Fabric: Cotton twill upper, cotton jersey lining, cow suede sole
Poco Nido is an award-winning brand providing simple and practical shapes for crawlers, those taking their first steps, or for when they're walking independently. Ideal for the transition as a baby takes their very first steps, this barefoot-walking friendly pair features 'pull-on stay-on' technology to help your little one get used to wearing shoes. Suitable for occasional outdoor use, the soft, suede sole allows foot-to-ground contact with natural protection and a hardy non-slip surface, which moves with your baby's foot.
12. Fun Two Strap Trainers
Sizes: 24-39 Euro| Fabric: Leather, cotton lining and rubber sole
These Velcro, two-strap, easy-fasten trainers feature a fun, painterly floral print and cut-out heart detailing. The sole is flexible for young, growing feet and the inner is padded for ultimate comfort.
13. Buddy wine leather mouse riptape first walking shoes
Sizes: 3-6.5jnr, width fitting F-G| Fabric: Leather
The footwear experts at Start-Rite have partnered with JoJo Maman Bébé to create a collection of animal-themed first walking shoes and boots. This mouse-inspired pair of T-bars is made from soft, wine-coloured leather with a leather lining to keep toddlers' feet comfortable. They feature an easy-to-fasten rip-tape fastening and flexible, lightweight soles allowing feet to move easily as they take their first steps.
14. Chelsea Navy blue leather/floral zip-up ankle boots
Sizes: 6jnr - 4UK, width fitting F| Fabric: Leather
This classic-meets-modern, smart design is an easy, elasticated pull-on that even a toddler can handle. A lightweight and flexible sole allows for natural foot movement and healthy development, while the leather upper and lining molds comfortably to the shape of the foot and keeps feet warm and dry.
VIEW AT START RITE | £44.99.-£47.99
Do toddlers need special shoes?
It's no surprise that toddler shoes are a lot different than adult shoes. Whilst adults may go for style over substance, it's important for toddlers to have the right fit, materials, shape, and fastenings.
"With children, it may not be enough to just have scaled-down versions of adult shoes. Their first walking shoes should combine style, quality, and fit," says Sara Driscoll, Head of Buying & Product at Start-Rite Shoes.
"Shoes designed especially for children's feet are designed to match the shape of a child's foot and include that all-important growing room. Remember, the nerve endings in babies and toddler feet haven't fully developed and your child may not be able to tell you that their feet are sore or squashed - so they need footwear with lots of room to grow, plus regular measuring."
When toddlers first start wearing shoes, that means getting shoes measured every six to eight weeks (or when you want a new pair). Toddlers are on their feet a lot so their shoes need to be comfortable, and long-lasting too. If your toddler is fussing with what they wear then there's no harm in letting them choose themselves. Once you've whittled it down to a couple of options that have all the practical elements, why not let your toddler have the final say?
What are the best shoes for toddlers learning to walk?
When toddlers are first learning to walk it's important to let them roam around as much as they can barefoot to help with their balance and grip. But when they're confident enough to step outside and explore beyond the comfort of your home, you are going to need shoes to help protect their feet.
"When babies are walking indoors and outdoors unaided for much of the day, their feet need more support and protection. First walking shoes should allow natural movement and the right level of support and protection for your toddler's uniquely soft and light structured feet. This allows them to develop naturally, gain the right level of feedback from the terrain beneath and protect them throughout their exploring," says Sara.
"As we head into spring, sandals and canvas are a great alternative for warmer weather, allowing fresh air to circulate around your child's feet. Look out for styles with multiple adjustments, lightweight and flexible soles and machine washable canvas is an added bonus!"
With that in mind, check out our edit of the best shoes for toddlers - and where to find them now.
Best shoes for toddlers
If you want shoes that are fun and provide a healthy fit for growing feet, here's our guide to the best footwear out there.