How to talk to kids about coming out as gay, lesbian or bisexual
Want to start conversations with your kids about coming out as gay, lesbian or bisexual? These are The Proud Trust's top tips to get started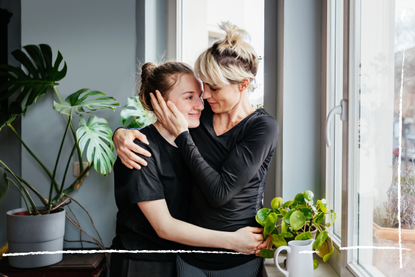 More than 1 million people over the age of 16 in the UK navigate a sometimes-tricky, sometimes-confusing 'coming out' process throughout their life, according to the Office for National Statistics, and the first hurdle is often telling you - their parents or guardians.
"It's important to know that coming out isn't a one-and-done process," Molly Houghton from The Proud Trust (opens in new tab) says. "Coming out is something that young people will continue to do for most of their lives. It's that first one that can be difficult though, once that first band-aid comes off, the whole process becomes a whole lot easier for them."
So whether they've come out to you as gay, lesbian or bisexual, or you want to be prepared in case they do one day, these are some pointers from the experts for how to talk to kids about all things sexuality in an age-appropriate way.
Why is talking to children about being gay, lesbian or bisexual important?
It's a fair question. With so much of LGBTQ+ media focused around sex and relationships, you may feel that it's not necessary to delve into the world of labels, preferences and identity if your child is still young. But much like talking to children about periods (opens in new tab) and other facts of life, the sooner you talk to them about it, the better chance you have at making sure they get the correct information.
A research review in association with Harvard Medical School (opens in new tab) also shows that the earlier you talk to kids about these key issues, the less likely they are to have internalised stress about their sexuality in their teens and adulthood. "One of the biggest fears we hear from youth is that their parents and important adults in their lives will stop loving them because they are 'different'," says Samantha King, a family support and education specialist in the Gender & Sexuality Development Clinic at Children's Hospital of Philadelphia (opens in new tab). "Kids are very sensitive to a lack of support - wherever it comes from. As parents, we can be a buffer to negative talk and prevent long-term negative health outcomes."
By talking to children early, parents can create "moments of inclusion in our families and social networks," Samantha says. "Our kids are listening and absorbing what we do, say or not say when a gay joke is told in our presence, a transgender person is misidentified, or a person is belittled because of who they are or how they dress.
"We might not always know how a person identifies or what our child is going through, but creating environments where we prioritise tolerance and kindness is a great way to build a stronger foundation of trust and acceptance in your family."
How to talk to kids about coming out as gay, lesbian or bisexual
1. Start having the conversations early
The best way to show kids from a young age that you're accepting of them, whoever they turn out to be, is having conversations about how some people are different from others. Explaining to them that some families may look different to the one they have - and that's totally normal.
"The conversation grows as they do," Molly, who is a key member of the charity's communications team, explains. "If you're talking to a 5-year-old, then it's conversations around how some people have two mummies and some people have two daddies. Just like how you would explain that some people have one mummy and that's okay."
Start off small by introducing them to more diverse books which you can read together, for example. Research from The Literacy Trust (opens in new tab) shows that the types of books children read in their early years have a huge impact on their reading and writing ability, as well as their understanding of other cultures.
The review, which looks at how reading for pleasure impacts children as they grow, also suggested that positive reading habits in the early years offered kids' more insight into human nature and promoted better community participation later in life.
Best LGBT books for kids: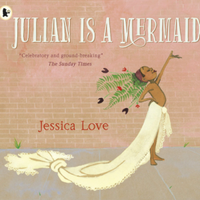 (opens in new tab)
Julian Is A Mermaid, by Jessica Love - £6.55 | Amazon (opens in new tab)
As well as being beautifully illustrated,
Julian is a Mermaid
is wonderfully inclusive. It's the story of Julian, who sees women with fishtail dresses and endeavours to create a costume similar. Suitable for 4 - 9 years.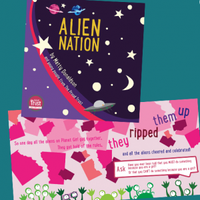 (opens in new tab)
Alien Nation by The Proud Trust
Suitable for those in primary school (KS2). Alien Nation is a colourful story book for kids that explores gender roles, expectations and identity. It also includes important terminology that children and adults alike can learn while reading.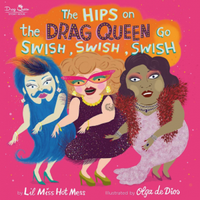 (opens in new tab)
The Hips On The Drag Queen Go Swish, Swish, Swish by Lil Miss Hot Mess - £9 | Amazon (opens in new tab)
This one is about being bright, bold and proud of who you are. The story plays off 'The Wheels on the Bus' as it follows a drag queen performing her routine in front of a captivated audience. Created by the founder of Drag Queen Story Hour, it's suitable for those 4 - 8 years old.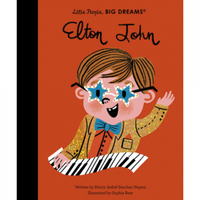 (opens in new tab)
Little People, BIG DREAMS Collection by Maria Isabel Sanchez Vegara - from £7.99 | Amazon (opens in new tab)
This collection of books includes LGBTQ+ icons like Elton John and Ru Paul. Alongside trailblazing activists in the fight for social justice and feminism. Included alongside their stories, which show that everyone starts off as just a child, are cute pictures by illustrator Sophie Beer.
2. Answer their questions
This may sound simple but it's often the easiest way of letting your kids know that you're cool with it. Whatever 'it' might be. If they come to you with a question about being part of the LGBTQ+ community, it already shows they trust you. So try to be as open as possible.
"When it comes to 7 and 8 year olds, how you'd have that conversation would be different. They'll often ask the questions. Have that chat with them, explaining that some people may fancy boys, some people may fancy girls and some people might fancy someone who doesn't identify as either of those and that's okay.
"And then as they grow into looking at their own sexuality, let that conversation be led by them as well."
But often it's not actually the answer that's the most awkward part of kids' questions (most of us can handle the classic "where do babies come from?"), it's not knowing what to say.
"You don't have to have all the answers," says our parenting editor Stephanie Lowe (opens in new tab). "It's just important not to dismiss the questions. It's completely okay to be honest and say 'I don't know' if you don't. And suggest that you look into it together. Just because you're the adult doesn't mean you have to know all the things all the time, showing your child this honesty and vulnerability will only help to build a connection and make communication that little bit easier."
3. Do your research
As with all social issues, the language and how we speak about LGBTQ+ topics has changed so dramatically (and for the better) over the years. So much so that even people in the community struggle to keep up sometimes. If you're not part of it yourself or don't have another reason why you'd be engaged in the conversation, like having gay or bisexual friends, it's easy to miss things. This means while it's totally fine to not get it right 100% of the time, it's important to know key words and phrases - and the ones not to use.
Whether for fear of alienating your child by referring to an outdated stereotype or unknowingly passing on outdated language, keeping up to date with key issues affecting the community is a huge show of support for your child and for the community as a whole.
LGBTQ+ books for adults and teens:
(opens in new tab)
Can Everyone Please Calm Down? A Guide to 21st Century Sexuality, by Mae Martin - £8 | Amazon (opens in new tab)
Feel Good
's Mae Martin investigates modern sexuality in this hilarious book for teens and adults. By describing her own adventures in dating, sex and identity, they demystify everything from coming out to labels along with the ups and downs of sexual fluidity.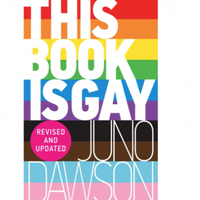 (opens in new tab)
This Book Is Gay, by Juno Dawson - £8 | Amazon (opens in new tab)
Written by former school-teacher Juno Dawson, this book takes a non-judgemental approach to explaining all things LGB. It includes insights from people across the spectrum of sexuality, looking into topics like sex, politics, stereotypes, how to come out and more. A great one to read for adults and teens.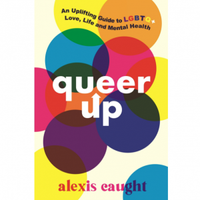 (opens in new tab)
Queer Up: An Uplifting Guide to LGBTQ+ Love, Life and Mental Health, by Alexis Caught - £7.99 | Amazon (opens in new tab)
A powerful and uplifting book in which podcaster Alexis Caught aims to help teenagers explore LGBTQ+ identity - but it's also a great one for adults. There's chapters on coming out, friends and family, love, sex, shame and pride, plus how to be a good ally.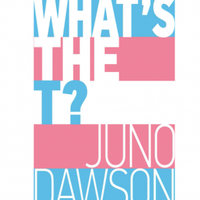 (opens in new tab)
What's The T?, by Juno Dawson - £8 | Amazon (opens in new tab)
Covering topics of gender identity rather than sexual orientation, this guide acts as an honest guide for teens (14+) and their parents. Juno covers labels, identities, coming out, sex and relationships with her trademark wit, alongside testimonies from icons such as Jay Hulme and Travis Alabanza.
As well as this, many LGBTQ+ charities have whole dedicated sections on their website for helping parents and other trusted adults understand how to talk to kids about sexuality. For example, The Proud Trust has among their resources a sexual orientation explainer (opens in new tab) to deconstruct the key labels that many people refer to - such as gay, lesbian, bisexual or transgender (LGBT) - and what they mean today. They also have a comprehensive guide on how to support young people who are actively coming out (opens in new tab).
If you're finding it difficult to approach these topics, whatever the reason, try to be as open as you feel like you can be. Molly says, "Do any research that you want to and acknowledge that things have changed now, in the same way that social media and the internet has changed. Things evolve."
4. Let your child start the conversation
"Let the young people lead the conversation," she advises. "The way that it is now might change. They might say 'this is how I'm feeling but I don't quite have a label for that yet'. Knowing that's okay, that it may be something that they've not got figured out straight away."
It might also be the case that they don't want to speak to you about it at all. They may not have discovered who they are - or who they like - just yet, or they may be getting support and resources from other avenues. It's certainly not a perfect system by a long shot but the government recently made LGBTQ+-inclusive sex and relationships education mandatory (opens in new tab) in all state schools. This means that many children from primary school-age all the way through to A-levels may have lessons on identity, relationships and safe sex from a queer perspective.
In this case, your role as a parent or guardian would just be to be there for them. "I think just letting the young people figure out what they want to figure out is the best thing. Let yourself be a sounding board for them, encourage them to have a chat if and when they're ready," Molly says.
5. Think about your own feelings
If you're having reservations or concerns about the prospect of your child coming out, you're not alone. While acceptance and celebration of LGBTQ+ relationships and culture has come a very long way since homosexuality was legalised in 1967, it's fair to say that we're not quite there yet.
"For many parents, it's not always necessarily that they've got a problem with their child's sexuality. It's that their child might now face difficulties. They don't want their child to have a hard life - ever. And the fact that their child might face homophobia or other difficulties in their life as a result of their sexuality or gender identity is often the biggest worry most parents have," Molly explains.
That's where seeking physical support from a parent's group may help. The Proud Trust has their very own 1-to-1 chat service called Proud Connections (opens in new tab) where adults who support young LGBTQ+ people (and kids themselves) can chat with a trained support worker in confidence. While they may ask questions to understand your situation better, it's up to you what that conversation is about. So, whether you have concerns about your child coming out, or just want more information, that's the place to go.
"There's a lot of parent support groups out there and they're a fantastic resource," she says. "Go to those groups and be honest, say that your child is identifying as this, you have no idea what it means and you don't know how I feel about it'."
More often than not, you'll be joined by other adults who feel exactly the same way and using those spaces as a "sounding board to talk about your feelings" is essential. "Because while it is a journey for the child, exploring their own identity, it's also a journey for the parents as well. They may have perceived their child's life to be one way - and now it's going to be another."
6. Let other people do the talking
While you can do all the talking and listening in the world, there's sometimes no one better to talk to kids about LGBTQ+ identity than those in the community themselves. Check out our list of hit television shows, bloggers and vloggers who can all offer insight into what it means to be part of the community today.
LGBTQ+ television shows
One Day At A Time, Netflix
This recommendation comes straight from communications officer Molly. One Day At A Time (opens in new tab), which is available to stream on Netflix, features a main character who is the newly-single parent of two children (one of whom comes out as a lesbian). While her mum wants her to have the best experience ever so that she can re-tell her "coming out story" in an exclusively positive light, she also doesn't know whether she's okay with it herself.
https://www.youtube.com/watch?v=vynbZLtqOiE
The character, Penelope, has perceived her daughter to have one life and that life is not going to look the way that she thought it would. Looking at a parent's journey with coming to terms with her child's sexuality, it's both a funny and entertaining watch as well as a programme for relatable guidance.
Modern Family, stream on Amazon Prime
The mockumentary-style show, available to watch on Amazon Prime (opens in new tab) or NOW (opens in new tab), was a hit the second it came onto screens in 2009. Among the other colourful characters that make up the extended family, there's Cam and Mitchell Pritchett. Played by Jesse Tyler Ferguson and Eric Stonestreet, the two became the first main characters to be in a long-term, committed gay relationship on primetime television.
As well as being hugely entertaining and inclusive in other ways, Modern Family shows a happy, loved-up (and often bickering) queer couple to be just the same as their heterosexual counterparts across the road.
Sex Education, stream on Netflix
With the latest series airing on Netflix just last year, Sex Education is one of the UK's most-loved shows. Famous for all-inclusive approach to topics including (as the title would suggest) sex, romantic relationships, family set-ups and friendships, the series has been particularly praised for its representation of those in the sexual minority. In the latest series, Gill (played by Gillian Anderson) helps a student at the high school who believes there's something wrong with her - because she's asexual.
https://www.youtube.com/watch?v=zmgYlYw7Uwk
It also tackles important sex-related topics for young people today, including consent, sexual assault and abortion. While it's a hilarious and entertaining show, and an important watch for teens, it is rated 18 on the streaming service so parental discretion is advised.
Vloggers and bloggers in the LGBTQ+ community
Rowan Ellis
Rowan Ellis makes videos on YouTube about pop culture and LGBTQ+ issues, identifying as part of the community herself. In the past she's spoken on topics including LGBT representation and history, pop culture, feminism and what it's like to be a woman on the internet. As well as being witty, insightful and a great role model for those thinking about their sexuality, Rowan offers recommendations for other great queer television shows, books and creators for young people to follow.
https://www.youtube.com/watch?v=FV7C4xos5pY
In January 2020, Rowan announced that her first book Here & Queer: A Non-fiction Guide for Queer Girls (opens in new tab)was due to be published in June 2022.
Kat Blaque
It was her video on pronouns for Buzzfeed that outed Kat to her boyfriend's family but their positive reaction and her acceptance of new-found recognition was what lead her to become "representation for other people". As she told The Advocate, "I know how it felt to not have that. It became very important to me to go outside of my comfort zone, if only to open people up to the fact that there are people that are like me."
https://www.youtube.com/watch?v=oyO9sjWKhqg&list=PL6orzhPfnuvlWZT97EmbYQQuE6XUKIL2j&index=10
Kat started vlogging in 2010 and in 2017, she started her True Tea series on YouTube. Communicating complex topics in way that's accessible for all age groups, Kat answers viewers' questions on racism, transphobia, Black culture and other important topics relevant to the LGBTQ+ community and society as a whole.
Riyadh Khalaf
Irish YouTube personality Riyadh Khalaf began vlogging while he was still in school and appeared in a series of primetime documentaries in Ireland, including Growing Up Gay in 2010, before presenting his own on BBC Three in 2017 called Queer Britain. Riyadh's videos include daily life vlogs where he shares insights into his and boyfriend Josh's relationship, alongside interviews with LGBTQ+ icons including rugby player Keegan Hirst.
https://www.youtube.com/watch?v=5kVpnU1aiiI
In 2019, Riyadh published his first novel - Yay! You're Gay! Now What? A Gay Boy's Guide to Life (opens in new tab).
Rose Ellen Dix and Rosie Spaughton
As longstanding members of YouTube's LGBTQ+ vlogger pool, Rose and Rosie have documented the start of their relationship in 2011 through to the birth of their first child in 2021. For any young people who may struggle to see what their lives could look like as a gay, lesbian or bisexual adult, Rose and Rosie offer real-world (and hilarious) insight.
https://www.youtube.com/watch?v=m_uSgIf2ax4
As well as sharing their own content in the form of challenges, tags, guides, gaming videos and more, the couple collaborate with other LGBTQ+ content creators for videos. In the past, this has included people such as Hannah Hart, sex-positive vlogger Hannah Witton, Shannon Beveridge, Cammie Scott and Amy Ordman - all women who identify as part of the community.
Video of the Week:
Grace Walsh is a Features Writer for Goodto.com, covering breaking news health stories during the Covid-19 pandemic as well as lifestyle and entertainment topics. She has worked in media since graduating from the University of Warwick in 2019 with a degree in Classical Civilisation and a year spent abroad in Italy. It was here that Grace caught the bug for journalism, after becoming involved in the university's student newspaper and radio station.