Period sex: how to feel more comfortable if you don't want your menstrual cycle holding you back
New research finds sex during the menstrual cycle is still a taboo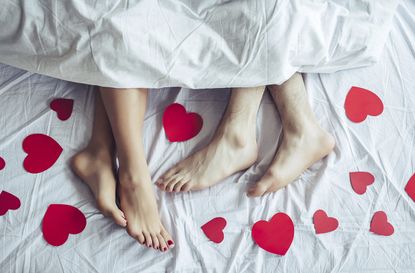 (Image credit: Getty Images/iStockphoto)
Do you stop having sex when you're on your period? If yes, you're not alone.
A new study by feminine hygiene brand Bodyform has found that almost half of Brits never have sex during a woman's period, with one in five UK adults believing that period sex is still a taboo subject.
More than half of women say it makes them feel unclean, 44 per cent reveal they don't feel sexy, 35 per cent admit they simply don't like it, while 18 per cent worry their partner won't like it.
Yet rather than being honest about their feelings, one in 10 women have made up other excuses to avoid being intimate with their loved one, such as not feeling well, being too tired and having a headache.
However, many women feel it's now time to break the taboo.
"Sex is an important part of many relationships, and periods are a totally natural part of life," says Traci Baxter from Bodyform. "We want to put a stop to the feeling that you can't talk about period sex or menstruation and encourage people to open up and discuss these topics candidly."
Don't want your menstrual cycle holding back your sex life any longer? Here's what can help…
1) Have the conversation about period sex
Worried a man will react badly to the idea of sex while a woman is menstruating? Surprisingly, the survey found that men are actually happier to have sex during a woman's period than females are, although 51 per cent of men find it a turn-off. Yet until you talk about it, you won't know how each other feels.
"No one should feel embarrassed or uncomfortable discussing the subject with the people they're close to – especially their partner," says Traci. "Whether people choose to have sex during that time or not is personal and up to them but, because of the taboo, many never even have a conversation about it."
2) An orgasm can actually shorten your period
Cramps, ache and pains around the time of menstruation can leave you far from being in the mood to be intimate. Yet move over, ibuprofen – sex could be the remedy you need.
"When we orgasm the body releases oxytocin, dopamine and endorphins, which help to relieve any period-related pains," says Kathryn Byberg, Global Brand Partnership Manager for Intimina. "These hormones are actually far more effective and stronger than any over-the-counter painkillers."
Having sex while menstruating can also shorten the length of your period.
"With each orgasm your uterus contracts and expels the blood and uterine lining at a faster rate than it naturally would during your period. Not only this but period sex will flush out the compounds in the uterus that cause period pain in the first place," says Kathryn.
3) There are buys to help stop the mess
The survey found that 53 per cent of men are put off from having sex during a woman's period due to the potential mess, but wearing a menstrual cup which fits around the entrance to your cervix can help.
"Many women are scared of the idea of having period sex due to the blood, which is why great period products (opens in new tab) such as the Intimina Ziggy Cup (£34.99, currentbody.com (opens in new tab)), can make both parties feel more comfortable," says Kathryn. "It will stop blood from leaking and making a mess, and can be worn for up to 12 hours at a time."
4) You may still need to use your normal lubrication
Yes, blood is wet, but you may still need some extra moisture to make sex on your period enjoyable and comfortable.
"Everyone's body is different," says Kathryn. "But some women may feel slightly dryer than they normally would and others may not notice a difference. It's all about finding what works best for you."
5) Clean up carefully afterwards
You may feel like you want to clean up thoroughly after sex on your period, but you should be careful not to "douche" down below, as flushing out the vagina with water can cause infection.
"You should never douche as your body naturally flushes out and cleans your vagina," says Kathryn. "Douching can often lead to infection and irritation."
Try MegsMenopause MM range (from £10, Superdrug), to help feel clean and comfortable instead.
Senior Health and Lifestyle Writer
Faye M Smith is a Senior Health And Lifestyle writer working across Woman & Home, Feel Good You, Woman's Own and Woman magazine. Having gained an NCTJ postgraduate diploma, Faye has worked for 15 years in journalism, covering a range of lifestyle topics for companies including the BBC, Press Association, News UK and Hachette.