Research shows that the school run is the most stressful time of day for parents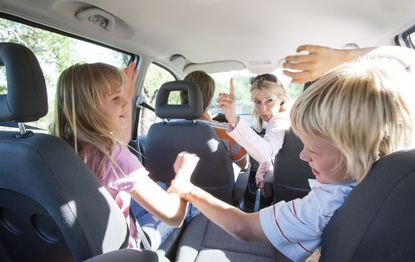 (Image credit: Getty Images/Cultura RF)
Life as a parent comes with more than one source of stress.
From trying to tackle bath time to getting the kids ready for bed (opens in new tab), there are a number of times a day that parents feel stressed because of their kids.
But new research has discovered that the daily school run is in fact the most stressful part of the day.
80 per cent of parents said that they find it so stressful that they can't concentrate on driving, and one in ten parents have even hit another car as a result of school run stress.
The research, carried out by car insurance car insurance company MORE TH>N, reveals that one in three parents feel the school run is the most stressful part of their day - with 26 per cent of parents saying it's as or even more stressful than buying a house!
And with finding somewhere to stop off, making sure the kids have remembered everything they need for the day and getting them to school on time so that they don't get a late mark, there are many factors that go into making the school run such a tense time of day.
Researchers also found that 42 per cent of parents find it such a chaotic time of day because they are usually in a rush to leave the house in the mornings, with the same number of participants saying that arguments between siblings cause them stress. A total of 41 per cent of parents also blame their morning stress on traffic.
And how do the kids feel about morning school runs? The survey found that they don't like it either, with nearly a quarter of kids saying they start the journey to school feeling stressed or anxious and 5 per cent saying they feel stressed when they get to school as a result of the school run.
Keep your eyes on the road and stay safe parents!
Aleesha Badkar is a lifestyle writer who specialises in health, beauty - and the royals. After completing her MA in Magazine Journalism at the City, the University of London in 2017, she interned at Women's Health, Stylist, and Harper's Bazaar, creating features and news pieces on health, beauty, and fitness, wellbeing, and food. She loves to practice what she preaches in her everyday life with copious amounts of herbal tea, Pilates, and hyaluronic acid.