Are playgrounds and play parks open again?
Kids haven't been allowed on them for over two months now..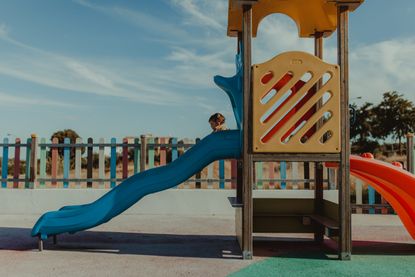 (Image credit: Getty Images)
It's been almost four months since the UK entered into lockdown as a result of the coronavirus pandemic, shutting down all non-essential services.
But now, businesses are beginning to finally reopen, as the government starts to ease the lockdown measures (opens in new tab).
In the beginning of the coronavirus (opens in new tab) pandemic, the British public were being urged not to visit parks and public spaces. However, the recent easing of measures means that green spaces are one of the places we are now allowed to visit and spend time in.
But what about the playgrounds within these green spaces?
For the last couple of months many outdoor play areas across the UK have been cordoned off, with kids and families forbidden from using them.
So when will families be able to visit playgrounds again? Have they opened up already?
When will playgrounds open? Are play parks open now?
If your little ones are desperate for an afternoon spent on the slides or swings - or, if you're desperate for a quite half an hour to yourself - you're likely wondering when you can next take them to your local park to use the play apparatus.
And it's finally good news!
In a speech recently, Prime Minister Boris Johnson confirmed that playgrounds and play parks could reopen from Saturday 4th July, but only if safe to do so.
He explained, "Most leisure facilities and tourist attractions will reopen if they can do so safely, including outdoor gyms and playgrounds, cinemas, museums, galleries, theme parks and arcades, as well as libraries, social clubs and community centres."
But indoors, when are soft play centres reopening?
How to keep your kids safe at the playground
Playgrounds and play parks have been one of the last things to open, because of the fact that risk of transmission of the virus is likely to be higher in these areas, given how much shared contact there is between the equipment.
So in order to keep your little ones healthy if visiting, the government advises (opens in new tab) that parents and carers should remain cautious about minimising transmission risk.
They said, "It is recognised that adherence to social distancing between individuals and household can be particularly difficult in a playground setting.
"This will mean that other ways of minimising transmission risk should be considered and communicated to the parents, guardians and carers, who should remain aware of the individual risk."
The government has also advised playground owners to set up a series of safety measures, including:
signs to promote cleaning of equipment by parents or carers
regular cleaning schedules from the owners and managers of the playgrounds
signs to communicate maximum number of users allowed on each piece of equipment
request that one family member only accompanies a child to the play park
setting a time limit on how long you can be at the playground
where practical, allowing visitors to book a time slot to use the playground
MORE: Relaxing music for kids to listen to if they're feeling stressed out and anxious (opens in new tab)
It is worth bearing in mind also that some councils may have chosen not to open up their playgrounds just yet, while they work out how to make them 'Covid-secure'. If you are planning a trip to the play park, check your local council website beforehand to check if yours is open.
Playgrounds reopening is great news for parents looking for ways to occupy the little ones on sunny days - but there are still some family facilities that won't be reopening just yet.
Boris Johnson confirmed in his address that venues that require people to come into 'close proximity' with one another will need to stay closed for the foreseeable future.
This includes soft play areas - the indoor equivalent of playgrounds, which have not yet had a reopening date announced.
Amy is Senior Digital Writer across Woman & Home, GoodTo and Woman, writing about everything from celebrity news to health, fashion and beauty features. When she isn't obsessing over the latest dress drop from Marks & Spencer, you'll most likely find Amy out running, or with a cup of tea in hand ready to dive into a gripping new Netflix series.