Choking game: Everything parents need to know about the dangerous choking game trend
This challenge is also known as the 'good boys high'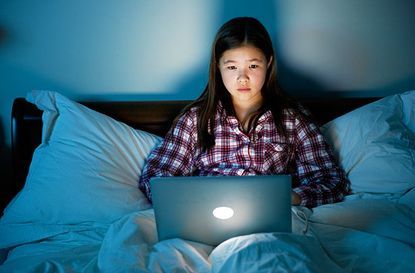 A dangerous kids' craze called the choking game has been sweeping social media and sadly even claimed the lives of some children that have tried it.
It's no secret that with social media use amongst children comes some very real online dangers (opens in new tab), with parents finding it more and more difficult to monitor what their children are talking about.
But when dangerous crazes like the blue whale challenge (opens in new tab) and now the choking game taking young people's lives, it hits home how dangerous these platforms can be.
If you haven't heard of the choking game, we've put together some important information on what it is so you can talk to your child if you have any concerns.
What is the the choking game?
The choking game is the practise of temporarily cutting off oxygen to the brain to create a 'temporary high'.
Young people can play the game either alone or with a friend. If a child is playing this game alone they are most likely to try and create a make-shift noose to temporarily hang themselves.
If playing with a friend children will use their hands to strangle each other or press down on each other's chests to the point of fainting.
Children have been using social media to dare each other to complete the choking game and insisting that they film themselves completing the challenge to prove that they did it.
Those playing the game can be younger than 11 years old, and often don't understand the very dangerous implications of suffocating themselves. Tragically this is when lives are lost, with children having been reported as accidentally hanging themselves in America and the UK.
What else is the choking game known as?
As with all urban myth games such as these, each school or group of children will refer to it under a different name. It is important to be aware of the different terms it could come under in case you spot one of these on your child's phone or computer.
One of the most common names apart from choking game is 'good kids high' - referring to the natural high that is induced by playing it without the use of illegal drugs or alcohol.
Here is a list of names that have been known to be associated with the game:
Choking game


Choking challenge


Good kids high


Good boys high


Blackout


Fainting game


Space monkey


Roulette


Suffocation


Flatliner


Dream game


Tingling


Why are children playing the choking game?
It is believed that peer pressure is the biggest reason for children to play this game, being challenged by friends or even bullies.
Curiosity may also have a big part to play as many children falsely believe that this practise is safe and is therefore a chance to experience being unconscious.
Some children also consider it to be a legal or free high, so as the game is said to be most popular with pre and early teens, children that are not old enough to drink alcohol see this as a chance to try a similar experience.
Where did the choking game come from?
The Mirror reports that the game has been around for decades, originating in America.
According to the American Academy of Pediatrics there have been reports of accidental deaths because of the game since 1934.
Recently social media has allowed the craze to travel across the world as young people film themselves completing the game and sharing it online, creating a trend in the UK.
Trusted, informative, and empathetic – GoodTo is the ultimate online destination for mums. Established in 2007, our 15-year-strong archive of content includes more than 18,000 articles, 1,500 how-to videos, and 7,000 recipes.