Chris O'Dowd and Dawn O'Porter welcome their second child
You'll love his name!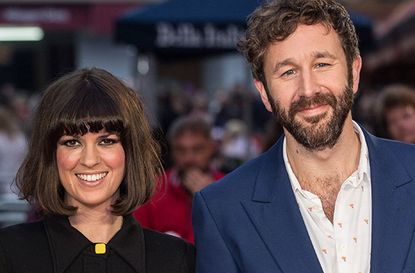 GoodTo newsletter
Sign up to the GoodTo Newsletter. You can unsubscribe at any time. For more information about how to do this, and how we hold your data, please see our privacy policy
Thank you for signing up to . You will receive a verification email shortly.
There was a problem. Please refresh the page and try again.
Chris O'Dowd and Dawn O'Porter have welcomed their second child.
Writer and TV presenter Dawn took to Instagram to announce the happy news of the birth of the pair's son, whilst also revealing the baby name (opens in new tab) they've chosen for the little boy.
'Happy to announce I am the proud owner of this chirpy little chap,' she wrote. 'Born July 1st, his name is Valentine O'Porter, and he is so delicious. Two sons, my goodness #soinlove'
Fans have rushed to shower the pair with congratulations, with one exclaiming: 'Massive congratulations and a fabulous name!!', whilst another agreed: 'Yay 😊 Congrats to you and hubby two beautiful boys'.
Chris and Dawn announced that they were expecting again back in January, with Dawn revealing her pregnancy during an episode of her podcast.
'I am starting a new novel this week, I'm about to turn 38 and... I am pregnant,' she confirmed.
The couple are already parents to son Art, who arrived in January 2015. The first time around, it was Chris' turn to break the news, as he tweeted: 'It's a boy! @hotpatooties & I would like to introduce Art O'Porter, our gorgeous baby. Well, I'm pretty sure he's ours.'
Dawn later retweeted the message and wrote: 'Thanks all. He is one week old today. It's been a beautiful week. I think we'll definitely keep him;)'
Back in March 2017, Dawn admitted to the Irish Times that she had an 'odd relationship' with motherhood, having lost her own mother to breast cancer just before her seventh birthday.
'I've never had that relationship of this unconditional friendship, deep bond that you have with somebody, but I have it now with my son,' she explained.
'So I know the feeling of what that relationship could be, I've just never had it... One of the traits that losing my mother really early did for me was it made me fiercely independent.'
'When you lose your parents when you're a kid, you kind of get this freedom and sense of independence way younger. And obviously I wish my mum had never died but I like the way my life turned out because of who that turned me into.'