Comedian Chris Ramsey and wife Rosie sadly announce they've suffered a miscarriage in heartbreaking post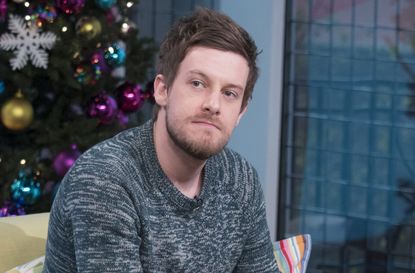 (Image credit: Ken McKay/REX/Shutterstock)
Comedian Chris Ramsey and wife Rosie have sadly revealed they've suffered a miscarriage in a heartbreaking post on social media.
The incredibly sad news of her miscarriage (opens in new tab) was shared by the comedian's wife, who wrote on Instagram: 'Good morning. Apologies for our silence across our social media's this week, it's safe to say we've had a pretty shitty one. Last week we thought we would be sharing some lovely news with you all but sadly that was not to be.'
Describing how the couple found out about the sad news during their first scan, she said they suffered a Blighted Ovum, which is when the baby stops growing very early. It either never develops to a point where it can be seen on scan, it can also be absorbed and leave just the pregnancy sac.
She explained: 'My body still thought I was pregnant for all those weeks after the baby had passed, hormones were released and everything apart from the baby was still growing. I'd never heard of this before so as you can imagine it all came as a great shock. Unfortunately it didn't all end there as we were told I still needed to have a miscarriage to rid my body of the sac, placenta etc.'
Rosie, who shares son Robin with Chris, still had to be admitted into hospital to undergo the procedure, which eventually meant she had to have surgery.
After a miscarriage: How to cope with a miscarriage (opens in new tab)
'It was awful. Cramping, vomiting, fainting, fever, really just not nice. After 5 rounds of tablets over a course of 20 or so hours the doctors told me it hadn't worked as effectively as they'd hoped. I was then taken to surgery to have everything removed', she said. 'It is now finally all over.
'I know it is going to take time to come to terms with all of this, I feel emotionally and physically exhausted. I have so much sympathy for other couples who have/are going through this as I never knew it entailed so much heartache. Robin has been wonderful through it all and we feel so blessed to have him in our lives. ❤️'
The couple hadn't yet announced they were expecting a second child but Rosie said she still wanted to share her heartbreak, in hopes that it would make other mums feel less alone.
After sharing the heartbreaking story in social media, the couple have been flooded with messages of support from fans. The Celebrity Juice star thanked for all the support on Twitter, writing: 'Thanks for all of your lovely messages guys. They honestly mean the world and really do help.'
Our thoughts are with Chris and Rosie (opens in new tab) at this difficult time. ❤️