Come Dine With Me contestant slammed after THIS shocking rant
Is Peter the rudest ever runner up?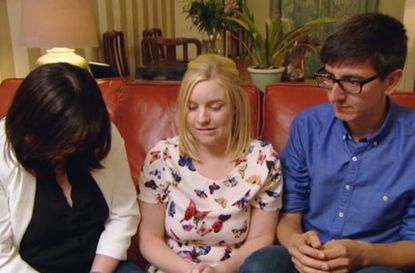 Viewers were left in shock after a Come Dine With Me contestant dramatically lost his temper, laying into one of his fellow contestant during the final minutes of the show.
Let's just say the competitor, Peter, didn't take too kindly to missing out on the top spot after Jane, one of his rivals, beat him to the £1000 prize money.
Peter, clearly not one for the usual niceties in these situations (you know the kind, a congratulatory hug, a thin-lipped smile or even a forced 'well done') proceeded to insult Jane's intelligence, and even asked her to leave his house – in not such polite phrasing.
Peter and Jane hadn't got on from the start, with the pair finding all sorts to argue over throughout the four dinner parties
Now, we won't spoil the surprise by going into too much detail, because here's the video for your enjoyment, but all we'll say is that we think you might not want Peter as your dinner guest.
http://www.youtube.com/watch?v=MEhoBJ-GpPQ
As expected Twitter was all of a flurry with many fans jumping straight into their own dissection of the show. And it has to be said that they seemed to be having a lot more fun watching the show than poor Jane did while featuring on it.
One Twitter user, Katie Chandler, said: 'Take your money and get off my property' savage scenes on Come Dine With Me # comedinewithme"
[Twitter]
[/Twitter][Twitter]
[/Twitter][Twitter]
[/Twitter] We think it's safe to say Peter isn't the most popular guy at the moment. We wonder if he'll have anything to say about all the coverage!
If you're intrigued you can watch the whole episode on Channel 4 On Demand but the clip was quite enough for us.
What's your favourite episode of Come Dine With Me? We'd love to know if you have seen a more dramatic ending. Let us know in the comments below or get involved with the discussion on our Facebook page.
Rosie is an experienced food and drinks journalist who has spent over a decade writing about restaurants, cookery, and foodie products. Previously Content Editor at Goodto.com and Digital Food Editor on Woman&Home, Rosie is well used to covering everything from food news through to taste tests. Now, as well as heading up the team at SquareMeal - the UK's leading guide to restaurants and bars - she also runs a wedding floristry business in Scotland called Lavender and Rose.