We earn a commission for products purchased through some links in this article.
Image: Supplied
For most mums, sharing pictures of kids' cute or funny milestones is a daily occurence. In the GoodtoKnow offices, we document everything from first smiles to funny reactions, and love seeing similar updates from other parents too – but it seems not every group of friends likes seeing these kinds of posts in their newsfeed.
A scathing letter written to a mum-of-one has gone viral after it was sent to comedienne Em Rusciano, who wrote an article about it which she then shared on her Facebook page.
The cruel rant mocked the mum's frequent posts about her young daughter, claiming that she was 'ramming it down everyone else's neck', and saying:
'She crawls off the mat – we DON"T CARE!!!!! She's 6 months old – BIG DEAL!!!! Stop and think – if every mother posted all of that crap about their kid – I'm sure you'd get over it pretty quickly'.
Em defended the mum in her article, writing:
'It's not like she busted into their houses armed with life-size portraits of her child dressed as a tiny adorable pumpkin and demand that they be hung on every wall. Obviously in some people's opinion she's been overdoing it on the proud mother moments. Annoying, yes. Worthy of an anonymous poison pen situation, no.'
The letter, in full below, also included a jibe about the mother's maternity leave:
'We can't wait for you to get back to work – maybe you won't have time to be on Facebook quite so much.'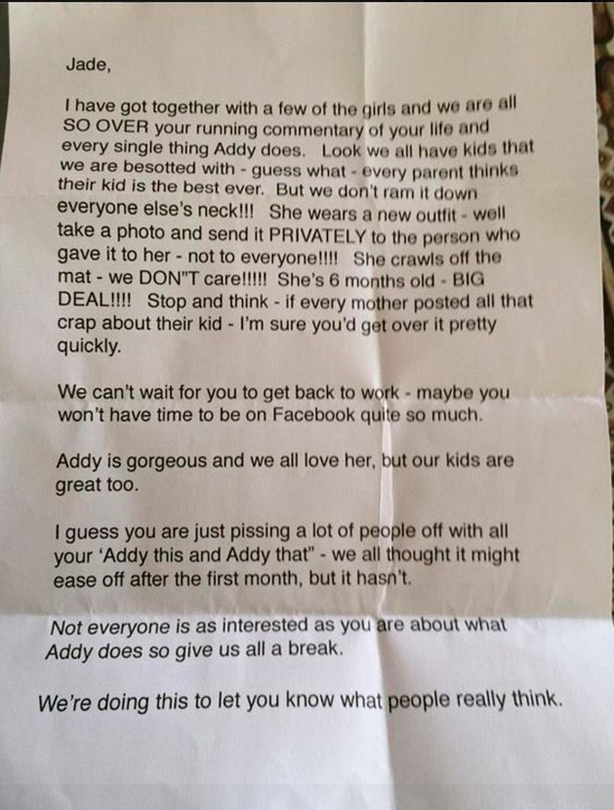 Image: Supplied
Since Em shared the letter, which was sent anonymously, she's had hundreds of comments supporting the mum in question, with one exclaiming:
'I would rather be baby spammed on Facebook 100 times over and know that there is another really proud and loving parent in the world than see all the posts about child abuse and cruelty. Show me a happy baby in fluffy pink anytime.'
However, the group of 'friends' end their letter by maintaining that 'we are doing this to let you know what people really think' – and so, we want to know, is this what YOU think too?
Is there such a thing as 'baby-spamming'? Or do you love seeing pictures of your friends' kids just as much as we do? Let us know your thoughts in the comment section below!