We earn a commission for products purchased through some links in this article.
Disability isn't always visible – a fact which mum and PHD student Sarah Metcalfe knows all too well.
Sarah suffers from fibromyalgia, a long-term illness which causes severe pain all over the body. Whilst it isn't always obvious to outside observers, with symptoms including fatigue, muscle stiffness, IBS and paraesthesia, as well as the increased pain sensitivity, she understandably needs to take advantage of certain facilities from time to time, including disabled parking spaces. So you can imagine her horror when she emerged from a quick trip to the supermarket with her son Jack, and found this scathing note on her car:
Image: Facebook/Sarah Metcalfe
The 35 year old quickly took to social media to express her shock at the hurtful message, writing:
'I know I may not look ill, in fact I choose to smile rather than cry, but I do suffer from a long term condition that causes pain and fatigue all over my body.'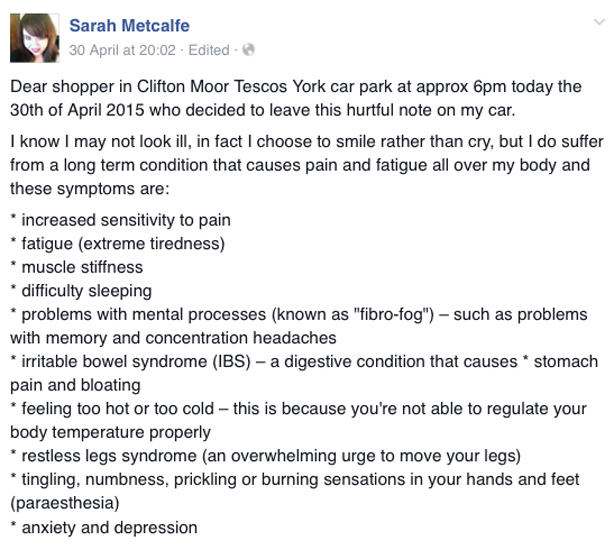 She continued below, 'Despite the fact that I work hard (I never take sick time), don't claim disability benefits (not that it's wrong for people that do) and I juggle work and family life I was really just having a BAD and very painful day.'
'Please don't be so quick to judge people by appearances. I fear one day you may say the same to someone and it could really push them over the edge.'
'Luckily I am open minded and know that appearances can be deceptive and that some people don't know these things. But I would just like to say to you if your reading this now that it's better to be kind than hateful- quite frankly you never know what kind of day a person is having and what the consequences of your actions will be.'
In a later interview with Metro, Sarah revealed that the cruel message has left both herself and her son in tears. According to the Daily Mail, she does not yet have a badge to display in her car, as she is still going through the application process.
Her post on Facebook has been shared more than 3,000 times, and Sarah says that she hopes to find the author of the note to highlight to them the impact that their words can have.
'Just because I'm not in a wheelchair doesn't mean I'm not disabled,' she told the Mail. 'I think the person who did this should come forward. I just want to talk to them about what it's like to live with a disability like this.'
Would you ever tell someone not to park in a disabled bay if you suspected they didn't need to? Or are you just as appalled as Sarah at the note that was left on her car? Leave us a comment and let us know!