We earn a commission for products purchased through some links in this article.
Trying to come up with a unique, creative proposal is no easy task. Luckily, dad-of-two Scott Worgan had some talented little helpers on his side when it came to popping the question to his partner-of-six-years, Caitlin Miller.
The couple's daughters, Scarlett, 3, and Sienna, 20 months, are the stars of the show in this adorable video, during which Scott helps them hold up a series of cards with a set of sentimental messages written on them – all leading up to one very important line.
The clip opens with the girls holding a card saying 'Hi Mummy! Guess what?'
Scott flips it over, and the back reads 'You're amazing in every way.'
'Everything you do for us, everything you do for daddy, makes us feel soooo special', the cards continue.
'Six magical years, two beautiful girls, we love our family.'
'But there's something missing?'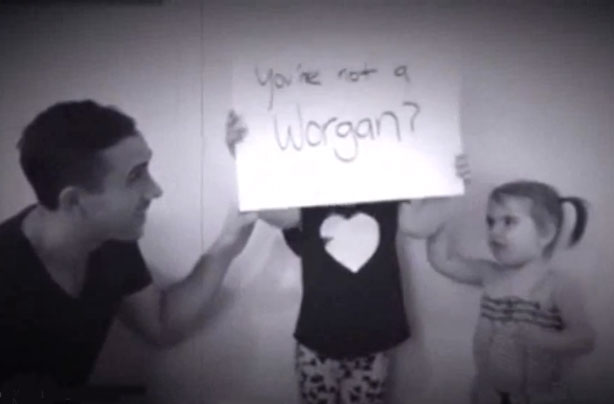 'Funny name I know, but wouldn't it be cool if we were your flower girls?'
'We would be cute and you would be such a beautiful bride.'
'Soooooo will you…'
'Me? Please!' Scott adds.
You'll be pleased to hear that Scarlett and Sienna managed to keep the video a secret until Scott was ready to play it – and that Caitlin didn't have any idea! 'It had been a bad week, the girls were both sick and he had been away for three weeks for work and every time I have had a bad week he usually puts a little video together for me with photos of the girls,' she explained. 'He turned the TV on and that came on and as you can imagine I was a bawling mess.'
However, after the tears, she was presented with a beautiful Inverell sapphire ring, and her response was of course a resounding yes.
Scott shared the video on Facebook with the caption 'She said YES!!!', and it has since been 'It's going a bit crazy and we're having random people message us and email us to say congratulations and how sweet it was,' Caitlin revealed. 'Scott was a bit taken back but it's very nice to hear.'
Friends and family have also been blown away by Scott's proposal.
'They're amazed by it, he's had every girl in tears,' Caitlin said – and with a video this cute, we're not surprised!
Watch the proposal video in full here:
http://www.youtube.com/watch?v=gC2lWIO6rzM
Video: Facebook/Scott Worgan