We earn a commission for products purchased through some links in this article.
David Tennant and his wife Georgia Moffett have welcomed a fourth child to their growing 'brood' and are anticipating a 'sleepless Christmas'.
The 44-year-old actor revealed the news on a breakfast radio slot with Christian O'Connell on Absolute Radio this week.
The host asked the former Doctor Who about his family life to which he coolly replied; 'I know, number four has arrived, yeah.'
Christian, visibly surprised, continued; 'Wow, what is it, like The Waltons round there at The Tennant household?'
The Broadchurch star already has three children with Georgia, 30, including daughter Olivia, four, Wilfred, two, and Ty, 13, from his wife's previous relationship.
David formally adopted Ty on their wedding day in December 2011, celebrating the following day with a New Years' Party at Shakespeare's Globe Theatre, London.
Speaking at the time he said; 'My baby is almost a year old and I adopted my wife's boy last year as well so I became a father twice in six months – that's got to be something of a record hasn't it?'
The interview continued with Christian making a joke at the new-father's expense; 'You've got the look of a new dad… haunted.'
The Scottish star, who plays Barty Crouch Jr. in the Harry Potter franchise, did not reveal the new child's birth date or any other details, but was clearly revelling in 'having two of each'.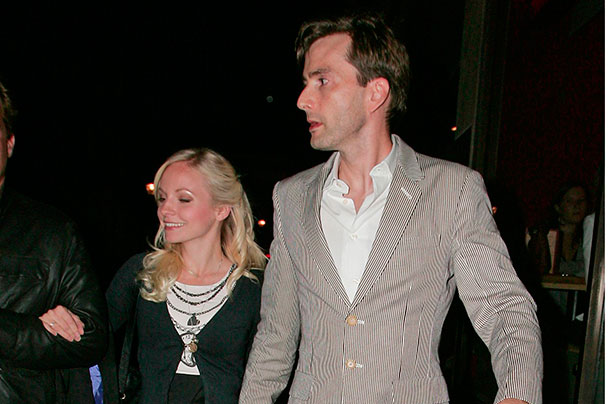 The couple first met in 2008 when Georgia had a guest role in the Doctor's Daughter episode of the BBC sci-fi hit.
It was certainly a case of life imitating art, as Georgia is actually a real life Doctor's daughter – her father Peter Davidson played the role of Timelord between 1981 and 1984.
When a Guardian journalist joked that it was as if David had deliberately picked a daughter of a Doctor, David said: 'That's exactly what I did, yes, and there were very few candidates available. It was a limited field.'