'The hardest thing I've ever done' The reality of telling your children you have stage four cancer
Deborah shared these words with us in 2017, a year after her bowl cancer diagnosis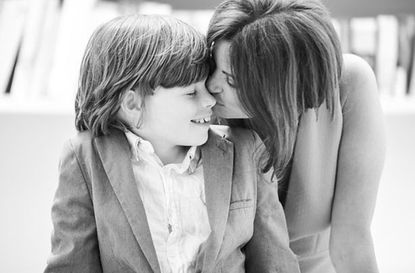 Goodto Newsletter
Parenting advice, hot topics, best buys and family finance tips delivered straight to your inbox.
Thank you for signing up to GoodTo. You will receive a verification email shortly.
There was a problem. Please refresh the page and try again.
Finding out that you have cancer is one of the hardest things a person can go through, but so is telling the ones you love most. The late Dame Deborah James - whose Bowelbabe documentary is released this Spring - opened up to Goodto on her experience.
That's exactly what Dame Deborah had to endure when she was diagnosed with stage four bowel cancer, and had to explain her condition to her two young children.
Throughout her illness, she was determined to campaign to raise awareness of the illness, both through her BowelBabe blog and the You, Me and the Big C Podacast , which she uses to document her journey and spread knowledge of the symptoms of bowel cancer to as many people as possible.
In 2017, she told us how it felt to tell her family that she had cancer, and what she hopes for them now and in the coming years, whatever the future may hold.
My husband and I took them out to lunch to our favourite family restaurant, and I told them.
I felt sick with having to say the words, knowing full well what it could mean for them in the future.
Earlier this year, I was diagnosed with stage four bowel cancer. I've undergone a bowel and lung resection to remove my tumours and been through chemotherapy, and the fight has been one of the hardest things - but telling my children about it was right up there with them.
Hugo, nine, and Eloise, seven, knew that I'd had a tumour taken out, but we had to explain that when they cut open it open, it had cancer in it, so I would have to have chemotherapy to make sure there weren't any other cancer cells floating around. They liked it when I told them that mummy wouldn't be at work for a while - but I had to add that I might be a bit tired and sick.
They were very upbeat to start with, but more and more questions have come along as we ride the journey. Hugo, my eldest, is a very switched on nine-year-old, and he has been asking more serious questions: 'Mummy, what happens if the cancer cells spread and they can't stop them? What happens if the drugs don't work?'
They were worried when they found it had spread to my lungs, but I keep telling them that the doctors are doing everything to cut it out and stop it growing any more. I tell them I'm with the best doctors imaginable, who will give me the best chances - and I do really believe that myself.
I think my kids are old enough to understand that people can die of cancer - often they watch children's movies where the mummy or daddy has passed away. They know that we are dealing with a serious illness. I consistently ask them if they are worried about things or mummy, and we focus on having fun and enjoying life today.
When they first saw me on my chemo pump at home they were both taken aback a little bit, but they have got used to it now. Eloise, my daughter, was also grossed out my the catheter bag - she couldn't stop telling her friends that mummy's wee was collected in a bag and she saw it!
Recently they asked if they could see the hospital where I have chemotherapy. I happened to have an appointment late one day to have my chemo pump removed, so I took them with me to watch and the nurses let me show them around the chemo day room, show them where mummy sits, the machines we use etc. There was no one else there and it was lovely and calm so I think it has stopped them worrying what happens to mummy when she has chemo now.
They really have been wonderful - they love the BowelBabe image, and have totally got behind raising awareness for Bowel Cancer UK. They're proud of being in the paper and part of my blogs. They have discovered a 'new mummy' in me and love having me around. Every cloud hey!
Up until six months ago, I was a full time working mum - a deputy headteacher working 12 hours a day. If I'm being honest my kids didn't see me often during the week. Whilst I miss my role and the satisfaction I was getting from working in education, my family and my health has had to come first.
When you are faced with an uncertain future, you want to ensure you can set your children up to be resilient, caring, creative, wonderful little characters in the future. You find yourself wanting to teach them things you thought 'would wait for another day'.
I have to make the most of enjoying life today and creating wonderful memories so that whatever happens my children can always look back to those happy times together for guidance and reassurance of the enduring love I have for them. If I can't see them grow up I want them to remember me as being a fun mum who taught them to get the most out of life by grabbing it with two hands and believing that anything is possible for them.
I might be rubbish at cooking and sending them into school with the right stuff, but I want them to laugh and take inspiration from the other side of me, dragging them to watch Shakespeare at The Globe standing up for 3 hours, trawling them through art galleries to then make their own Pollock inspired paintings, teaching them how to dance and have a drive to do 'something that makes them happy', but most importantly how to be thoughtful, loving and kind to others.
None of us know what might happen tomorrow but I think it's all to easy in modern life to get caught in the daily grind and cycle of just getting through. It's only when it's thrown open to re-evaluate that you realise what is important. For me, there is nothing more important than making the most of now and building memories with my children - not just telling them they are loved but ensuring they know it - forever.
Related features:
Parenting advice, hot topics, best buys and family finance tips delivered straight to your inbox.
Trusted, informative, and empathetic – GoodTo is the ultimate online destination for mums. Established in 2007, our 15-year-strong archive of content includes more than 18,000 articles, 1,500 how-to videos, and 7,000 recipes.