Who are Deborah James' parents? Heather and Alistair James and Deborah's siblings
She spent her final months at her parents home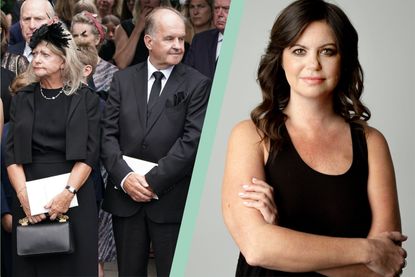 (Image credit: Future/Getty)
As audiences settle down to watch the Deborah James Bowelbabe documentary, here's all the details of her parents Heather and Alistair who appear in the special.
Dame Deborah James, aka Bowelbabe, died last June at the age of 40, after a five-year battler with bowel cancer. She left behind an incredible legacy, having raised millions of pounds for Cancer Research and changed the way people talk about bowel cancer with her relentless campaigning, uplifting attitude and determination to tackle taboo.
Continuing on Deborah's memory and message today are Deborah James husband and children, alongside her parents Heather and Alistair. We've shared all there is know about her mum, dad and siblings ahead of the BBC Bowelbabe documentary.
Who are Deborah James' parents?
Heather and Alistair James are the parents of the late cancer campaigner Dame Deborah James - otherwise known as 'Bowel Babe'. The two live in Woking, Surrey.
Deborah's mum is a pre-school gymnastics coach, who like Alistair, returned to work following their daughter's death in late June 2022. "We went straight back to work after the funeral. You need to keep going," Heather explained in an interview with The Telegraph.
🤗Joining us on #TheOneShow today we have the parents of @BowelBabe, Alistair and Heather James!They'll be talking about Deborah James' documentary that goes out on @BBCTwo tonight 💚 pic.twitter.com/I8cmslhzWhApril 17, 2023
See more
"We've tried to live a normal life but it's complicated," Heather continues. "It hasn't been normal for five years. I didn't realise how much going into hospital for treatments and then to visit Deborah would take it out of me.
"When she died I needed to do something. I love teaching children; they keep me going. My only focus is their safety so it stops me thinking about Deborah. I know she is gone and we won't see her again, but I sometimes forget when I remember that vibrant, full of life, awesome, exhausting daughter."
Deborah moved back into her parents home to receive end-of-life care from May 2022 onwards. Explaining her reason for wanting to move back to her childhood home, she said: "It's kind of where I've always wanted to die, weirdly. I've always had that in mind. I think I always knew I didn't want to be at my London home. It doesn't feel right to me."
In her final few months, Deborah spent quality time with her family. The 40-year-old enjoyed a trip to Royal Ascot in June with family members.
Reflecting on her dad in her Sun newspaper column, ahead of Father's Day 2022, Deborah shared: "My dad is my unsung hero, more so than ever. He's quietly there behind the scenes, making sure I am OK.
"He's always been a very calming, loving presence in my life — he's very good at handling me and all my craziness. His patience knows no bounds."
Deborah James 'knackered' after Royal Ascot as she thanks dad for 'holding her up'https://t.co/b3PfrS3M1Z pic.twitter.com/YwPVDzeKf4June 17, 2022
See more
Deborah also opened up on her close bond with mum Heather on Mother's Day 2018, a year after her bowel cancer diagnosis.
In her online Sun column, Things Cancer Made Me Say, Deborah told her mum: "I know your fear is that you might have to hold my hand one day too soon, if things take a turn for the worst and I take my last breath. But I'll be OK because you'll be there."
In a interview ahead of the documentary broadcast, Heather opened up on how her daughter's death has affected her. She told the Telegraph: "To me, Deborah was invincible… Until the minute she took her last breath, I still thought she would survive.
"We never thought she would die. If we'd have known she was going to die at the end of five years, we wouldn't have had such an enjoyable time. She deteriorated in front of our eyes, but I never prepared for the end."
Heather added that whilst Deborah came home for her end-of-life care, her attitude was to continue to live. "It was the best death because she encountered life. We had seven weeks altogether. She would say, 'Right, we're having cocktails!' And we'd lay the bottles on the table.
"'I want a Deliveroo!' It might be midnight. Chips or a McDonalds milkshake. We'd also make big lunches and she'd sit in the kitchen and watch Seb make a salad.
"'Mum, I need my nails painted!' she said. 'Deborah, really?' 'I'm not dying without painted nails.'"
Heather and Alistair promised Deborah they would continue to campaign and raise awareness of bowel cancer following her death.
"Her legacy makes me so proud, but also so sad," Heather says. "I feel sad that Deborah isn't here to live her life when I am. But I want to continue the legacy for her. Let's hope nobody else now slips through the net like Deborah did."
"We all have to live life, enjoy living life and live it to the best that we can…we owe that to Deborah"In her first interview since the death of her daughter, Dame Deborah James' mum Heather speaks to #BBCBreakfast's Graham Satchell about her final weeks and her legacy ⬇️ pic.twitter.com/wsWbKfsJtBAugust 15, 2022
See more
Who are Deborah James siblings?
Deborah James grew up with two siblings - sister Sarah Wieczorek and brother Benjamin James. Deborah was the eldest of the three.
Ben is engaged to long-term girlfriend Ashley, who have been together for over 11 years. Deborah's brother proposed not long after Prince William's visit to the family home.
At the time, an overjoyed Deborah shared: "He finally put a ring on it. If you follow me, you will know brother banter features highly, and even Prince William got in on the action recently. The question to my brother has always been, 'why haven't you proposed?'"
"I am so pleased he is engaged, I love Ashley and they are so happy together."
Ben paid tribute to his "big sis" in a heartfelt Instagram post, following her death.
"Saying bye is never going to be easy, but knowing you achieved more than any of us could ever dream of…and so, so much more…makes it that little bit more bearable," he wrote.
Deborah's sister Sarah recently appeared on chat show Lorraine, for the return of the 'No Butts' campaign - a bowel cancer campaign Deborah set up with the ITV host to raise further awareness.
Talking about her late sister, Sarah admitted to missing Deborah's "sparkle" and her ability to "make the normal a little bit different and fun". She also credited Deborah's openness with her cancer as having helped the family grieve.
"'A lot of people have often come up and said, "Oh it must be really hard to talk about", but actually it's kind of been like therapy,' she told Lorraine. "And the fact that Deborah was so open about it, we haven't had to explain a lot of the hard stuff, she's done that for us...she's left us a real privilege of a legacy."
Talking on the Big C podcast back in January 2023, Sarah shared how she likes to remember Deborah now. "I think the spontaneity of her is how I remember her - and just her laugh."
What happened to Deborah James aka 'Bowelbabe'?
Dame Deborah James passed away on June 28, 2022, aged 40. A month prior, the podcaster and author announced she had decided to move into end-of-life care following her fight with incurable bowel cancer for five years.
When announcing her decision to receive respite care in May 2022, James launched the Bowelbabe Fund to raise money for UK charity Cancer Research. In the weeks following, the campaign amassed over £7 million. Her charitable efforts led to Deborah being made a Dame by Queen Elizabeth II. Prince William stopped by her parent's home that same month for tea, champagne and to present Deborah with her damehood personally.
In April 2023, the Bowelbabe fund shared that the current total stands at £11.3 million. "This incredible amount of money will help give more people more time with the people they love by funding cutting-edge research, spreading the word about signs and symptoms, and smashing the stigmas around cancer," reads the Bowelbabe social media post.
The fund remains open today and still accepting donations for Cancer Research UK. You can donate via the official website.
"The reason I created [Bowelbabe] is because I felt that she was the polar opposite to the perception of somebody with bowel cancer," Deborah said. "I have the old man's cancer, but I like high heels and glitter skirts as well as the next 35 year old, so it's breaking down those perceptions of what cancer looks like.
"My statistics are hideous. [Fewer] than one in 10 people survive what I have for more than five years. So I know what I'm faced against, but I have hope. To be honest with you, I feel that if you don't have hope, then what have you got?
"Don't get me wrong, we all agree that the physical challenge is there, but the mental challenge, that's just as much in itself."
Deborah was just 35-years-old when she was diagnosed with bowel cancer in December 2016. The former deputy headteacher quit her day job to educate and inspire other cancer patients across the world. Her campaigning included a weekly cancer column for The Sun newspaper and presenting the BBC 5 live podcast You, Me and the Big C alongside Lauren Mahon and the late Rachael Bland.
In addition to the Bowelbabe fund, Deborah launched a charity clothing line with In the Style in the last month of her life (which raised an extra £1 million) and managed to get toilet paper company Andrex to print the symptoms of bowel cancer on 29 million packs of their toilet paper.
Announcing Deborah's death back in June 2022, her family re-shared her words of wisdom to champion going forward. "Find a life worth enjoying; take risks; love deeply; have no regrets; and always, always have rebellious hope. And finally, check your poo – it could just save your life."
Find out more about Bowel Cancer symptoms and how to check your poo for Bowel Cancer.
Video of the Week
Emily Stedman is the former Features Editor for GoodTo covering all things TV, entertainment, royal, lifestyle, health and wellbeing. Boasting an encyclopaedic knowledge on all things TV, celebrity and royals, career highlights include working at HELLO! Magazine and as a royal researcher to Diana biographer Andrew Morton on his book Meghan: A Hollywood Princess. In her spare time, Emily can be found eating her way around London, swimming at her local Lido or curled up on the sofa binging the next best Netflix show.