'Why I still breastfeed my seven year old'
Denise Sumpter caused controversy when she appeared on ITV's This Morning revealing she was still breastfeeding her six-year-old daughter, here she has her say...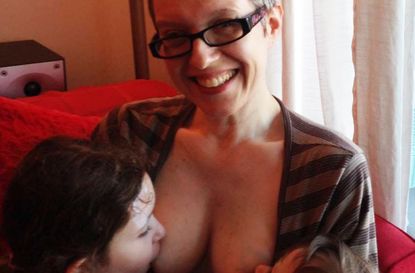 Looking at this photo you might think that Denise Sumpter looks familiar.
That's because she's the mum-of-two who caused controversy in January 2015 when she appeared on ITV's This Morning revealing she was still breastfeeding (opens in new tab) her six-year-old daughter.
The ensuing Twitter-storm was fierce; Denise was called everything from 'creepy' to 'totally unnatural' by enraged viewers, with one even adopting the hashtag '#perversion,' in a tweet aimed at the 45-year-old mum.
Here Denise, who still breastfeeds both her children, Belle, now 7, and Beau, 2, has her say on why she won't use the term 'extended breastfeeding (opens in new tab)', because she doesn't believe she's extending anything at all...
I became a mother later than many...
At 38. My partner and I had known each other since our teens, but decades later, when we had been a couple for only a few years, we decided that we wanted to become a family.
Denise with her children, Belle, now seven, and Beau, 2.
Our daughter Belle was gorgeous, born on a hot April day seven years ago now. We were doting parents immediately, but neither of us knew a huge amount about parenting. So, we read some books, decided what we wanted, and followed our instincts.
We had a great natural birth, and breastfeeding happened quite easily, after a week or so of support and getting the hang of it.
Belle loved to breastfeed day and night, and I knew this was good and normal, so she slept next to me, fed, and became a chubby smiling baby; everyone commented on how contented she looked.
When she was six months I wondered how people stopped breastfeeding while their children were so little - Belle was so very young and needed her milk. After all, the world health organisation recommends up to two years and beyond.
I always knew I wanted to breastfeed...
But I hadn't really thought much further than that. I heard people breastfed until six months, so I thought I would do that, too. Once I became a hands-on mother with an attachment parenting style, I couldn't imagine not breastfeeding. So, we passed various milestones along the way. One year, two, three... And still we were going strong.
Denise says her children are 'rarely ill'
By then we knew we had gone beyond what most people in the west tend to do, but I also knew by this time that we were well within the global norm for breastfeeding, and that what might be common practice now was not necessarily optimal for humans, globally or historically.
By this time I had made many online friends - mothers who were also doing as I was. Online support, in addition to all of the personal friends and groups local to me, helped us chart the years of breastfeeding very happily indeed. London is a pretty cool city in which to live, and in all of my breastfeeding years I have only had one negative incident (a nursery staff member, who asked me to go into a toilet - obviously, I didn't).
We have a busy family life, but we still find time for breastfeeding, somehow. When you've breastfed as long as I have it just seems to weave itself into the fabric of everyday life and take care of itself.
When I discovered we were to have another family member, Belle, now at school, was incredibly excited. As the months rolled on, my milk supply dipped and rose again as the birth month neared. Belle happily fed through the ebb and flow, and was thankful when my milk returned in the final few weeks.
Belle stayed home from school to see her brother born...
And we had a fabulous family birth. We kept my son's cord attached for several hours, and had Beau's precious placenta made into nutritious pills that kept me upbeat and happy in the coming months. Belle was excited to feed alongside her brother.
Denise's partner has been supportive of her breastfeeding. Pictured here with their son, Beau
Beau is still feeding like a rockstar at over two years, and Belle enjoys breastfeeding, too - not as much, now, but she finds milk and a cuddle help her get to sleep. They like to have milk together, but sometimes they do squabble and push - this is usual too, as I understand from tandem nursing friends.
Breastfeeding is such a fabulous bonding, relaxing experience for everyone, and reviving too, after a hard day. Aside from nutrients and hormonal benefits, immunologically, nursing children are protected and supported until their immune system is fully mature. For me, of course, I know that there is protection from cancers, stroke, obesity and high blood pressure.
Beau has had barely a sniff since the day he was born, and Belle is rarely ill - my children are very typical as statistics go!
I don't use the term "extended" breastfeeding...
Because I am not extending anything, but simply following my children to their natural time for weaning.
Denise says she plans to let the weaning process happen naturally
Breastfeeding is definitely a feminist thing, too - why should anyone dictate what and how I feed my children?
Belle is neither afeared nor mystified of mothering in any way. She talks about when she has her children, how she will decide where to birth them, and how she will feed them. Of course, Beau will, I am sure, understand too the importance of support in parenting.
I have really enjoyed feeding my children, and it feels like such an achievement in our social climate. I have felt very fulfilled and powerful in that I know I can provide so much for them, and my body is clever enough to manufacture such a fabulous substance.
How funny it is that our society equates so many things that have naturally gone on into prepubescence with babyhood - bedsharing, breastfeeding, closeness. The established line seeks to remove children from that closeness, rather than let them make their own way. I find it very easy to trust them and let them lead me, but more difficult to convince people that this happens.
One thing is for certain, my children will remember fondly their milky days and know how breastfeeding happens.
That's "job done" for me!
What do you think to Denise's story? Let us know your comments by leaving a comment below.