As divorce enquiries reach record high I talk to the women who regret theirs: "I wish I knew all relationships are sh*t sometimes"
Divorced women share the reasons and regrets of their divorce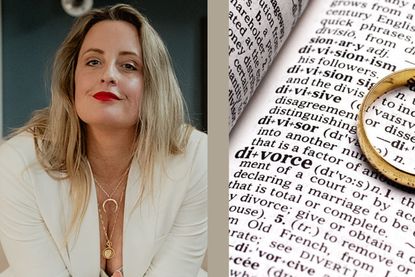 (Image credit: Getty Images / Cat Sims)
Divorce enquiries in the UK are at an all time high. I reach out to investigate why some women who asked for a divorce ultimately ended up regretting it*.
Staying married is a decision we make every day. Marriage can sometimes look like lack of communication, survival of the all-consuming baby years, and the mental load - it can be hard. Not to mention the added cost of living crisis and financial strains, the worry of war, the sheer amount of school holidays versus paid time off... and well, just life in general. All of this put together is a real challenge for any relationship to survive let alone thrive.
Senior Associate at Stowe Family Law, Ashley Le-Core (opens in new tab) tells us; "We continue to experience never-seen-before levels of divorce enquiries at Stowe – many of them due to the financial strain couples face in the current cost-of-living crisis, and unfortunately, we see such pressures – which all too often aren't communicated with one's partner – become a breeding ground for resentment in a relationship."
I hear that. And, then to add insult to real-life-relationship-injury, you have Hollywood A-listers Jennifer Lopez and Ben Affleck (AKA: Bennifer) rekindling their former relationship, and the media flaunting it in our faces. What in the name of sickly rom-com is this 'type of love'? And, are there really any normal people out there who regret their divorce and have successfully rekindled their relationship? I decided to find out.
*not all women, you understand, but 405 out of the 2736 polled from my Instagram account audience.
The women who regret their divorce
I have curated a following of like-minded women (and some men) on my Instagram of over 196k. I created a very scientific experiment (a poll on my Instagram stories) and asked the simple question; Does anyone regret getting divorced?
If I'm honest I assumed my DMs would be full of euphoric women, freed from the constraints of looking after their long-gone menfolk, dancing naked on their table tops revelling in their freedom. And, of course, I got a lot of those messages and I'm not going to lie – that post-marriage grass can look pretty green to someone on the muddy side of the married fence (every other weekend to yourself? Where do I sign up?) But, out of 2,736 votes, a whopping 405 people admitted to regretting their divorce.
Upon closer inspection, most of those didn't actually regret leaving their partners. In that sense, they were euphoric, table-dancing women oozing freedom, confidence, and independence I'd encountered on the other side of the (very scientific) Instagram poll. Instead, they spoke sadly about not being able to make the family unit work - a nuanced difference that plays into another important conversation around the perceived shame of divorce and the social belief that all kids will be better off in one house with two parents. But as I delved deeper into this insta-pool of regret, I did find a few who felt that, with the benefit of hindsight, they still loved their ex-partners.
Alice's story
Alice* moved from South Africa to England with her husband because they believed it would be a better place for their children to grow up. Inevitably, the move took its toll. She found herself alone and friendless while her husband worked away. The resentments grew and before long the fighting become endless.
"I ended up threatening divorce a couple of times," Alice explained. "The second time he said, OK. I was shocked but I'm stubborn. I'm a hard arse and I couldn't go back on it." Heartbreakingly, Alice adds, "It was all me." When I ask how her children dealt with it Alice explains that it's had a profound effect on her youngest. "He's in therapy. He suffers from separation anxiety and he isn't able to sleep in his own bed." She doesn't need to tell me she's weighed down by the guilt of it all – I can hear it in her voice. Referring to her ex, Alice explains that they have a good relationship now and co-parent well.
"But, I still love him," and its clear by the resignation in her voice that she knows there's no going back. "I tell him everything and we laugh together but he doesn't give me much back. I have apologised but maybe there's more I need to apologise for." Alice isn't alone.
Hannah's story
Hannah* married her childhood sweetheart after nine years of bliss. Everyone said they were the perfect couple and when they finally tied the knot, everyone just knew they were soulmates. And they were until they bought a house that needed complete gutting and quickly fell pregnant soon after. As they struggled through a grueling house renovation that her husband was doing between jobs as a builder, the relationship sank into disrepair.
"I had severe pre- and post-natal depression. When my baby was six weeks old she nearly died due to an undiagnosed milk allergy and I was in the hospital with her for months. I began to have suicidal thoughts, I shunned a lot of help from my friends, and my husband just, disappeared. He was a fixer and he couldn't fix this so he checked out."
The space that grew between them was exacerbated by the fact that her husband started going out all the time, drinking a lot, staying out late, and hanging out with younger people. "No one recognised him. We were both broken."
"I ended up having an emotional affair with a guy I knew that ended in a one-night stand. There was nothing more to it other than he validated and noticed me. My husband found out and kicked me out, and I don't blame him." In tears, Hannah described the deep shame and regret she feels for making that decision. "I spend all my time wishing I could go back to that one moment and make a different choice."
Now Hannah co-parents successfully with her ex. They are both in new relationships. Hannah says, "I have never been loved as my new partner loves me. And I love him deeply too. I've been working with my therapist to come to terms with the fact that it's possible for me to be in love with two people at the same time."
I ask Hannah what she would do differently. "Honestly, I wish we'd tried harder. I wish we'd been able to communicate about how we were both struggling. I wish we'd accepted more help but I wanted to be the perfect mother and wife. I wish I'd known how much better it gets as babies get older – that it's not that hard forever."
Debbie's story
Debbie* says the same thing. "I wish we'd got counselling." Her husband was suffering from depression after the death of his parents and his sister within 8 months of each other. On reflection, Debbie says, he was also struggling with PTSD from his time in the army. "I wish I'd have acknowledged the fact that he was depressed. I wish we had talked but we didn't. I'm crap at talking about my feelings." They now have an incredible friendship – she describes him as her best friend – and they're both still single. When I ask if she thinks they'll ever rekindle the relationship she replies quickly. "I've thought about it a few times when I've had a few drinks but I've never picked up the phone to say I regret getting divorced."
So far, so sad…and I'm not being flippant. It is sad. It's sad that when couples are at their lowest and emotionally unable to drag themselves out of it, there's nowhere for them to turn.
Couples therapy is stigmatised, considered the final nail in the marital coffin freewheeling down the hill to Divorce Central. If you have to go to couples' therapy, a friend said to me once, then you know you're going to end up divorced. Turn on the TV and there'll be movies telling you that a good marriage means being an expert in telepathy, always looking flawless, eating dinner together at the table for every meal, and ripping each others' clean and ironed clothes off the minute the kids are out of earshot.
Speak to your parents for advice and they'll tell you that marriage is just hard. In reality, a lot of them make it look miserable…but hey, that's how it's always been! Society spouts a lot of rubbish about how marriage is the bedrock of a successful community but there's very little accessible support to people struggling.
Jackie's story
But, there is some good news. I did find a real-life Bennifer. Jackie* found herself divorced in 2012 after 12 years of marriage. "My husband ended up getting a huge promotion and it took over everything. He was never there and any free time he did have he spent cycling."
Jackie says she tried to talk to him at the time but he couldn't see it. "I got really ill. I was stressed, suffered from horrible chest infections, and felt so alone and isolated. I started drinking a lot. In the end, I decided I'd rather divorce when the kids were young. I thought it would be easier for them. Before I knew it, it was happening. I ended up with a Rottweiler divorce lawyer who put really unreasonable demands into the negotiations without me really understanding and it made it all really ugly."
Then, two years later, Jackie saw on the news that a helicopter had crashed in her hometown (don't worry, the good news is coming!) and it made her think. "Someone has lost their dad, their husband and it just made me think about how I'd feel if I lost my ex. I picked up the phone, called him and we started talking."
They've now been back together for 8 years. "It's like the relationship has been reborn. The break-up made us realise so much and learn a lot about ourselves. We took each other for granted. I know now that all relationships are shit at times – the grass is rarely greener – and now when hard times hit we just talk and try to keep each other in mind."
So much like the damaging rom-com I've come to hate for the unrealistic expectations they put on couples, this article has a happy ending but the message is clear. Communication is the bedrock to navigating tough times in a relationship. It's easy to communicate when you're happy and things are easy. Still, when they get tough, it seems we're all guilty of talking to everyone else about how we are really feeling and not sitting down to have that conversation with the person who needs to hear it most – our partners.
*Names have been changed to protect their identity.
Related features:
Video of the Week:
Author, mum-of-two and content creator
Cat Sims is a writer, content creator, podcaster (You're never the only one (opens in new tab)) and author of 'The First Time You Smiled (opens in new tab)' who is still trying to figure out the whole 'adulting' thing. She's made a living out of documenting her failures and successes as a 40-year-old woman, mother, and wife across various social media platforms.