We earn a commission for products purchased through some links in this article.
Eddie Murphy has welcomed his ninth child into the world – a daughter with girlfriend Paige Butcher.
The actor's ninth addition, whom the couple have chosen to name Izzy Oona, was born on Tuesday morning weighing 7 lbs., 15 oz., and measuring 19½ inches long. According to his representative, 'Both mother and daughter are doing well.'
Whilst Eddie has had plenty of experience at being a dad, Izzy is Australian model Paige's first child.
When it was first announced that the couple was expecting, a source told Mail Online: 'He couldn't be happier. Eddie really is a family man and loves all of his children, so he's so excited about having another one on the way.'
The Oscar-nominated comedian has five children with his then wife Nicole Murphy – Bria, Myles, Shayne, Zola and Bella, aged now between 13 and 26. The couple divorced in 2006 after 22 years of marriage.
Eddie with wife Nicole and children in 2003
The Nutty Professor star also has three children outside of marriage. Eric, his eldest son, was born just a few months before his first child with wife Nicole, to mother Paulette McNeely. His third child, Christian, was also born a year later to mother Tamara Hood.
The 54 year old also had a daughter with former Spice Girl Mel B – Angel Iris – in 2007 after divorcing Nicole. However, Eddie famously questioned the paternity of the child, stating in an interview: 'I don't know whose child that is until it comes out and has a blood test'.
He was later confirmed as Angel's father through DNA testing, and Mel said last year that everything is fine between them now: 'We go over there as a family, we have dinners together. He's a great guy.'
According to a source close to Eddie, all his children go together on holidays and hang out at his mansion as a family. 'All of the children love each other dearly and the women, having all moved on with their own relationships, co-exist very well together,' they added to Mail Online.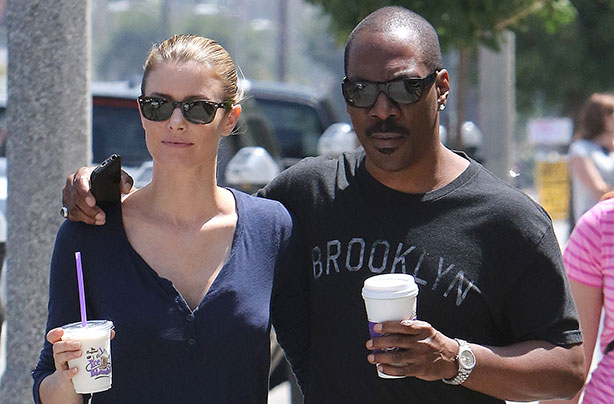 The now father of nine made his return to stand-up comedy for the first time in almost 30 years recently with an impersonation of Bill Cosby, at a ceremony where he was awarded the Mark Twain Prize for American Humour.
Eddie's eldest daughter Bria is pursuing a career in comedy and modeling, following in her dad's footsteps, and said it's 'scary' how much her brothers look like their father when showed a video of him being interviewed at 21: 'He looks like my brothers. They even move exactly like him. It's scary to look at how much you're like your parents when you get older.'
Eddie is also getting back on the big screen, starring in Lee Daniels' biopic about Richard Pryor, an american stand-up comedian, alongside Oprah Winfrey and Mike Epps.