We earn a commission for products purchased through some links in this article.
Image: Facebook/The Escapades of Ella and Snowy
Ella Peggie was born without a left arm – but with her best pal Snowy by her side, she's not going to let that hold her back.
The adorable one year old suffers from Amniotic Band Syndrome, a non-genetic condition which occurs when the fetus becomes entangled in fibrous string-like amniotic bands in the womb, restricting blood flow and causing damage to whatever part of the body might be affected (in Ella's case, her arm).
Image: Facebook/The Escapades of Ella and Snowy
Despite her syndrome, Ella has always been a happy, healthy baby – and now she's found a kindred spirit in the family's new adopted puppy, Snowy – who is also missing a limb.
'My heart skipped a beat when I saw Snowy online,' Ella's mum, Brooke, told the Daily Mail Australia.
'I knew she was going to be perfect for Ella – they share the same age so they both have a long life of friendship ahead of them. I just know that Snowy is going to give her a confidence boost growing up.
'It's going to be great for her [Ella] when she realises she's different or when she's having a bad day, she will see the resemblance and know that she's not alone.'
Brooke admitted that although she fell in love with Snowy at first sight, she did have her reservations about Ella bonding with the pup so quickly.
'Ella hasn't been around animals before so she was a little iffy when we picked Snowy up but she has warmed up to her pretty quickly,' she explained – but as it turns out, she needn't have worried, as the pair are now the best of friends.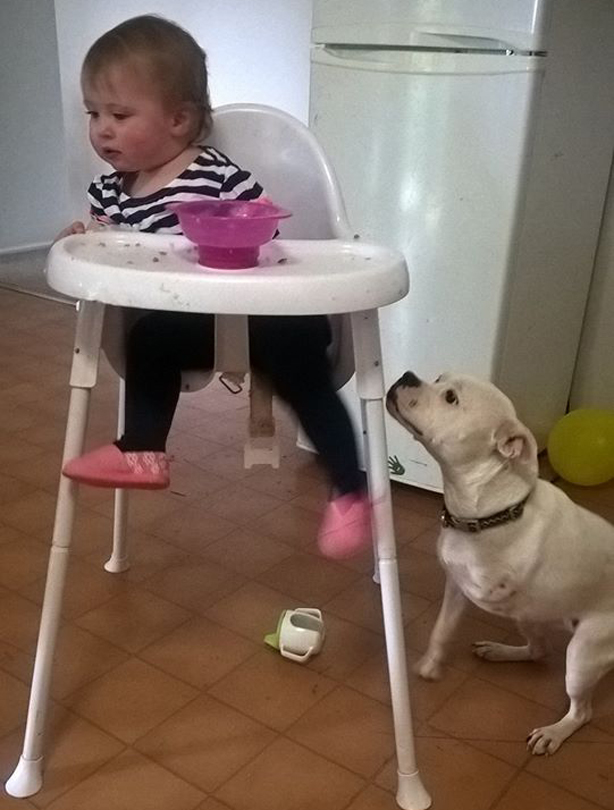 Image: Facebook/The Escapades of Ella and Snowy
'Snowy has the right idea when it comes to snacktime!' says Brooke on the duo's Facebook page
'They snuggle up together and Ella gives her kisses all the time. And I've noticed every morning, Snowy would look for Ella first before she runs to anyone else. It's quite a unique bond and just beautiful to see that. I know it will make a world of a difference for Ella.'
In a lovely twist of fate, Snowy's previous owners, who had to surrender her to the RSPCA after they couldn't afford treatment for her injury, found her through Facebook, and sent Brooke a message saying how glad they were that their dog had found a happy new home.
'Seeing your photos of her and your daughter has brought tears to our eyes knowing that she is finally with a family that will cherish her. We truly look forward to seeing more photos of them growing and helping each other,' they wrote.
Brooke now says that her daughter has already found ways to adapt to life without her arm, using her head and feet to experiment with play and happily shuffling around on her bottom instead of crawling.
'When she was born at a hospital ward, I was a bit worried at first – like how she would cope when she starts prep school,' Brooke said. 'She won't be able to cut paper using a pair of scissors or do other things that you could do with two hands.
'But we will cross that bridge when we come to it. Right now, she's our beautiful, happy and healthy little girl and I can't ask for anything more.'
'I'm just thankful that I was able to give her this dog. I just can't wait for them to get even closer. Not many people are able to do this for their children so we're very lucky to have Snowy – I can't even explain how I feel right now.'
If, like us, you can't get enough of little Ella and her puppy pal, you can follow the Peggie family's adventures on their Facebook page.