We earn a commission for products purchased through some links in this article.
Single mum Emilia Fox talks exclusively about getting older, being a grafter, and her constant mummy guilt in an exclusive interview for the February issue of Essentials magazine. Read on for a sneak preview…
On juggling work and motherhood…
I am permanently beating myself up about the amount of time spent away from Rose when I'm at work, but it's got to be done and I know I'm really lucky to do something that I love. If I could stay at home and be with her all the time that would be a luxury, but I don't have that option, so you make the best of the situation you're in. I constantly strive to get better at juggling, but there always seems to be more that needs to be done.
On being a single parent…
When Rose is spending time with her dad, it gives me a chance to catch up on the rest of my life. Jeremy and I have worked really hard at maintaining a friendship for Rose's sake. He's still 
a huge part of her life and we share childcare equally. In many ways, we get the added benefit of each being able to spend intimate time with Rose as every other weekend we each get her to ourselves, and often we all hang out together, too.
On fashion in her forties…
I love getting dressed up for red carpet events, but off camera, the only way I could describe my style is eclectic. I don't have much idea about what's in fashion; I just wear things that I like. For me it's more important to feel comfortable in something than whether or not it's 'on trend'. When I feel comfortable, I feel confident. In a funny way, I think in my forties I feel less worried about the way I look than I did when I was younger. I feel a bit more confident in myself. I think when you hit forty, you finally realise it's OK to be yourself.
On having no time to exercise…
I used to be really passionate about running and doing Pilates, but exercise is often the thing to get sacrificed in my schedule. If I have to choose between that and spending time with Rose, there's no contest. But I think young children keep you fit anyway.
On Silent Witness…
It's such an amazing thing that it has carried on for this long, and that it has stayed so exciting and kept its loyal audience. It's either my eleventh or my twelfth series – I've stopped counting! We film from April through to November each year and I always look forward to it. It's an incredible thing to be able to say you look forward to going to work, but for me it's almost like that feeling of going back to school and looking forward to seeing all your friends again.
To read the full interview with Emilia, pick up the latest issue of Essentials on sale now.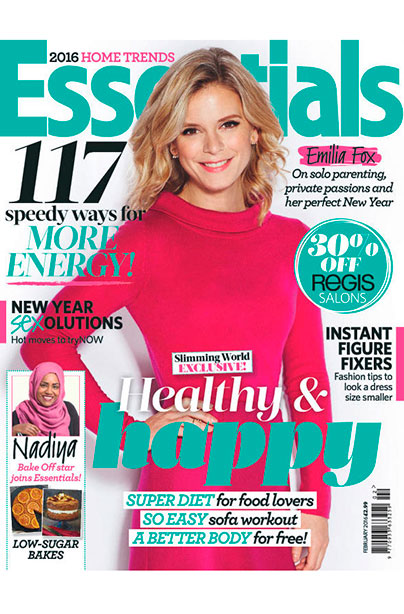 Inside the new issue, you'll find:
Exclusive interview with Emilia Fox
30% off Regis Salons for every reader
117 speedy ways for more energy
New Year Sexolutions: Hot moves to try now
Bake Off Star Nadiya joins Essentials
Slimming World Exclusive eating plan and reader offer