We earn a commission for products purchased through some links in this article.
A video experiment has shown that many toddlers and young children would rather play with toxic chemicals over a toy.
The experiment, which was filmed in the Netherlands as part of a public service safety video, set out to warn against the 7,500 accidents with household chemicals that happen in Dutch homes every year.
The short film shows what happens when children are presented with the choice of two objects; a regular kids' toy and a bottle of household cleaner.
Children under 4 are more likely to play with bleach than a soft toy.
Image: YouTube/VeiligheidNL
Using a hidden camera, eye-tracking sensors and a heart-rate monitor, researchers were able to tell which objects the children were most attracted to.
Some children were asked to point to which they'd like to play with, while others crawled straight over to the one that appealed to them most. And the results are shocking.
50% of children chose stain remover over a doll, 64% chose paint over a cuddly toy, and a whopping 82% chose bleach over wooden building blocks.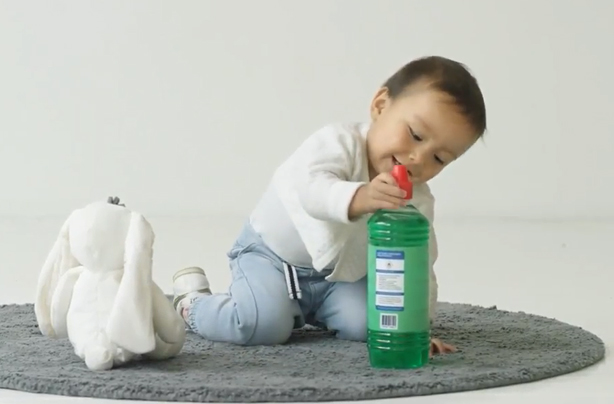 The footage is now being used as a public service advert warning against the dangers of household chemicals and young children.
Image: YouTube/VeiligheidNL
Detergent tablets proved to be the most popular thing to play with, and overall, over half of the children involved chose chemicals over toys.
The video has since been turned into a public service advert called 'Don't give kids a choice', which aims to make parents aware of the dangers of such household products.
The Dutch Government's home safety promotion organisation, VeiligheidNL, who are responsible for making the video have also created an online test in which you can put your own child to the test and see what choice they would make. 
The online test simply requires your child's age, and for you to ask them to point to the item on the screen they would most like to play with. If you take the test, be sure to let us know what your child chose by leaving us a comment below!
Watch the video
How do you keep your child safe in the home? Let us know by leaving a comment below.