Bride fuming after guest asks for gift back months after wedding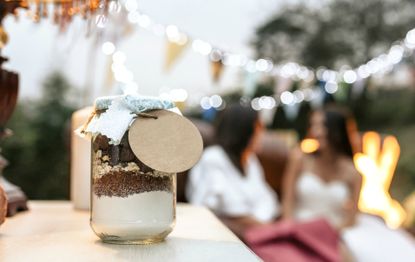 A bride has been left furious after being gifted a cheque of £160 by a wedding guest - only for him to ask for a majority of the amount back three months after the occasion.
The story was shared after the bride, who has chosen to remain anonymous, wrote into a wedding shaming group on Facebook to let off some steam.
Posting into the group, the bride, who is believed to be Australian, wrote: 'This is a short one. After my wedding my husband and I opened gifts and cards.'
READ MORE: Bride-to-be demands refund for the 'ugliest cake ever' - but what do you think? (opens in new tab)
'I opened a card from my husband's aunt and uncle and they had written us a £160 cheque. We were like "whoa, but okay he makes good money."'
She continued: 'Three months later we get a phone call and the 'generous' uncle said he only meant to write a £16 cheque and we need to give him £144 back. Like who does that!?'
The bride insisted that he and his wife 'do not have money problems' and her mother-in-law was disappointed by the uncle's display of behaviour.
She then went on to inform readers how she and her husband dealt with the situation: 'We gave everything back because we didn't want a penny of his money.'
Members of the Facebook group were quick to give their own opinions on the situation, and some made it clear that they would operate a complete zero-tolerance policy if they were in the bride's shoes.
READ MORE: Bride asks if she's right to be annoyed with her bridesmaid for cradling her baby bump in wedding pics (opens in new tab)
They said: 'I'd never speak to them again, nor be around them. Whether it was a family event or not. I'd never go. Screw that. How pathetic and trashy.'
Another animated user wrote: 'Wow, I'm speechless. £16 for a wedding gift?!?! Are you kidding me?! Some people have no shame. And to call you and demand the money back! Wow, I can't even.'
What do you make of the whole scenario? Head over to our Facebook page and let us know your thoughts!
Freelance Lifestyle Writer
Niamh McCollum is a freelance lifestyle writer who has written for Future titles GoodTo and Marie Claire UK, plus the Irish Independent. The Dublin-based journalist specialises in stories
affecting families - from health updates, to the freshest parenting debates and celebrity announcements.