Bride-to-be demands refund for the 'ugliest cake ever' - but what do you think?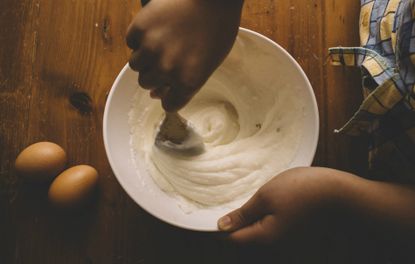 Baker defends cake after bride complains, but is the cake really that bad?
When it comes to planning a wedding, the cake can be a bit of a contentious issue.
Everyone has different taste preferences and ideas of what flavours might work best with one another. Then, of course, the aesthetic has to be considered so the cake can adhere to whatever themes or colour schemes have been set for the wedding reception.
Read more: Princess Eugenie's nontraditional royal wedding cake
With so many different factors to be considered when choosing a cake, we can understand that it can be a pretty stressful situation for the bride.
One cake baker, however, has reminded us that it can be just as stressful a time for the people actually baking the cake, by revealing an email she received from a not-so-satisfied customer.
New Zealand baker, 'The Caker', took to Instagram to post a photo of a beautiful and delicate wedding cake that she had prepared for a bride-to-be.
In her caption, however, she revealed that her customer had a pretty harsh response to her creation.
Underneath the picture of the cake, Jordan Rondel, who goes by The Caker, shared her confusion at the customers response by writing:
'Apparently this is the ugliest cake this customer has ever seen, so ugly it won't be served at the wedding tomorrow.
'We had no other option than to refund them in full. I personally loved the look of this cake, which we felt fitted what the customer asked for, and ultimately we would never send out something we weren't happy with...so I'm completely shook.'
The disheartened baker then concluded her caption with this: 'Anyone else running a business who puts in their best efforts and ends up losing out?'
Jordan, who has over 43,000 followers on her company's Instagram page, accompanied the picture of the cake with a screenshot of the email directly sent to her by the upset customer, and well, it's not pretty.
The quite aggressive email reads: 'I don't know how iv paid for the simplest cake with minimal decorations and paid the amount I have just coz it's "the Caker" - this is just unacceptable.'
Read more: Bride-to-be accidentally receives shocking email from her wedding planner
'This is the ugliest cake iv seen. I want a full refund.'
The customer very sassily closed her email with this sharp remark: 'I expect a reply back'
Sheesh.
Is it just us or does the cake actually look very lovely and what's the problem?
What's your opinion on this messy cake scenario? Head over to our Facebook page and let us know your thoughts.
Parenting advice, hot topics, best buys and family finance tips delivered straight to your inbox.
Freelance Lifestyle Writer
Niamh McCollum is a freelance lifestyle writer who has written for Future titles GoodTo and Marie Claire UK, plus the Irish Independent. The Dublin-based journalist specialises in stories
affecting families - from health updates, to the freshest parenting debates and celebrity announcements.