Experts reveal why your dog likes lying on your pregnant stomach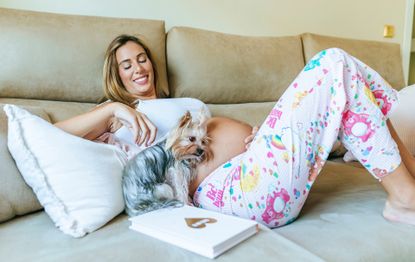 (Image credit: REX/Shutterstock)
Goodto Newsletter
Parenting advice, hot topics, best buys and family finance tips delivered straight to your inbox.
Thank you for signing up to GoodTo. You will receive a verification email shortly.
There was a problem. Please refresh the page and try again.
Have you ever wondered why your pet loves snuggling up to your bump so much?
Experts at Animal Planet have revealed that your canine friend is probably responding to a change in your scent caused by all the pregnancy hormones flooding through your body. In fact, your pooch might have got wind of your pregnancy before you did!
There's also a chance that changes in your mobility or gait might make you seem more vulnerable, making your dog want to protect you.
Alternatively, they may have picked up on changes in your mood – if your dog senses that you are upset or angry, they might curl up on your bump in an attempt to comfort you.
Earlier this week, Stacey Solomon shared a picture of her dog Theo cuddled up to her bare baby bump to Instagram. 'Thank you for all your helpful comments on over protective Theo!' she wrote.
'So many interesting things out there that I can't wait to explore. She is an amazing doggy. And I love her to the moon and back! Thanks again… can always count on you guys for good advice.'
'My mum's Springer Spaniel Monty years ago used to sit on my stomach,' one of her followers commented. 'He knew I was pregnant before I did bless him.'
'My dog was exactly the same when I was pregnant,' another agreed. 'Always lay either near or on the bump. He slept tight against it every night. He definitely knew baba was there before we did.'
'Our pooch was such a sweetie when our little one was born,' another user added.
'Always wanted to be near her. He used to lie under my bump before she was born too. Today he is nearly 14 years old and our baby girl is coming up to 10 years old this year. They are best buddies.'
Others offered helpful advice on helping doggy and baby to bond. 'Let doggy have a romper that smells of baby and then when you come home she'll be used to the smell,' one recommended. 'Worked for me.'
Parenting advice, hot topics, best buys and family finance tips delivered straight to your inbox.
Samantha is a freelance writer at Goodto who has been with team since 2019. Initially trained in psychology, she specialises in health and wellbeing and has additionally written for magazines such as Women's Health, Health & Wellbeing, Top Santé, Healthy, Refinery29, Cosmopolitan, Yahoo, CelebsNow, Good Housekeeping and Woman&Home.