Fearne Cotton opens up about having a blended family and how it prepared her for parenthood
Mum-of-two Fearne is also step-mum to Jesse's two children.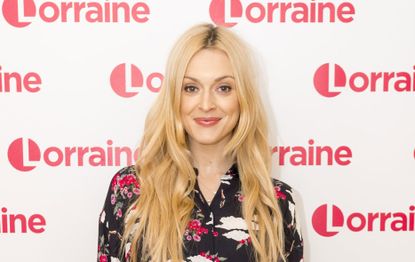 GoodTo newsletter
Sign up to the GoodTo Newsletter. You can unsubscribe at any time. For more information about how to do this, and how we hold your data, please see our privacy policy
Thank you for signing up to . You will receive a verification email shortly.
There was a problem. Please refresh the page and try again.
Before giving birth to two children, Fearne Cotton had a swift introduction to parenthood as step-mum to husband Jesse Wood's children.
Fearne Cotton is mum to five-year-old Rex and two-year-old Honey and says that although having her own children is a very different, life as a step-mum taught her a lot about coping with family life.
Speaking to GoodtoKnow ahead of her new Boots Mini Club kids range (opens in new tab) Fearne explained how being a step-mum to Jesse's children 13-year-old Lola and 16-year-old Arthur prepared her for her own children.
She said: 'It doesn't necessarily prepare you for having your own kids, but it prepares you for an element of parenthood which is about time management and learning how to keep your relationship afloat within family life.'
Fearne continued: 'It is important you keep things rolling and you stay on-board with your partner - and that you still have fun as a couple, and that you feel comfortable and treat each other kindly. Step-parenthood was a good initiation into that because you know you've got lunches to make for school or school uniforms to wash, or car journeys to take them on to clubs at the weekends, and that was a real swift introduction.'
As well as the routine and responsibility, Fearne said being a step-mum gave her an insight into the nice side of family life too.
She admitted: 'It is also such lovely stuff like sitting down as a family to eat a meal, and doing things as a family. It was a good introduction to the good stuff and the trickier stuff. It is definitely different when you do it for your own kids because it is a whole new responsibility, but it was definitely a really nice introduction to it.'
For many blended families it can be tricky when new children are introduced but Fearne's best advice for ensuring it all goes smoothly is to involve the existing children as much as possible.
She revealed: 'What we have always done, and it has been our only real rule, is to include them in all of it. So when we found out we were pregnant they [Lola and Arthur] were the first people we told, above our parents, our friends, everyone and we let them have that news for a week or so before we told anyone else, so that they could just digest it, ask questions they had, get excited about it.'
Fearne also explained that she and Jesse don't have a set routine of when they have his kids over so she tries to make sure all the children hang out as much as possible.
She said: 'There is no set up of when we have them, it is just kind of ad hoc and they stay for big chunks of time and we make sure that all the kids integrate and hang out together as a family, so they feel like they are full siblings rather than half.
'It is just about including everyone in everything and communicating and talking lots - rather than things being found out the wrong way or whatever.'
Fearne understands that she has been lucky that Jesse's children welcomed her with open arms and she really appreciates that.
She admitted: 'I have been really lucky that both kids have welcomed me into their lives without any problem. I have never had any issues with them and I am very very grateful that it has been like that. That is luck really, but I the other side is just being honest and communicating lots.'
Do you have any tips for making blended family life run smoothly? Head over to our Facebook page to share your advice and experiences, we'd love to hear from you!