Gary Barlow opens up about the devastating stillbirth of his daughter Poppy
This is such a heart-breaking moment for the family...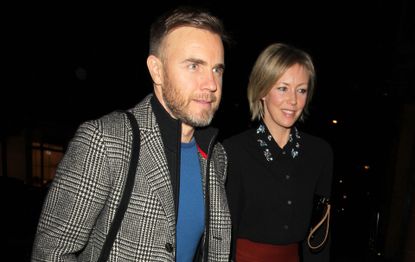 Take That singer Gary Barlow has opened up about the pain and heartache of his daughter Poppy's stillbirth, in a candid extract from his forthcoming autobiography.
Describing the moment Poppy came into the world on August 4th 2012, the former X Factor judge revealed that he felt like he was 'dreaming' after learning that his longed for child was stillborn at full term.
In an extract from a 'A Better Me' - obtained by The Sun and set for release this Thursday - the 47-year-old writes:
'When she was born it was like a light came into the room.
'It was lovely, it was gorgeous, we both took turns cuddling her, and we took pictures.
'It was one of the best hours of my life I've ever experienced in the midst of the hardest time of my life. It was very powerful, that hour was.
'Poppy looked perfect and for an hour she was alive to us. She's in your arms, this beautiful little daughter of ours, a sister to our three other children.'
Continuing he described the emotional turmoil he and wife Dawn Andrews experienced as they were forced to say goodbye to the baby they had cradled in their arms just moments earlier.
'Then the reality comes rushing into the room and all the air leaves your lungs. It felt like someone had a hand held tight at my throat,' he revealed.
Before adding: 'The nurses start hovering and they want to take her away. What we experienced and saw over those 24 hours, no-one should have to see or have to go through.
'There's no sadder sight than seeing a mum with her dead baby in her arms, willing it back to life with all her being.'
Gary also described how Poppy's tragic death caused Dawn, 48, to develop post-traumatic Type 1 diabetes.
And in a further agonising admission the star described how he and Dawn went through Poppy's funeral alone, rather than putting children Daniel, 18, Emily, 16, and Daisy, nine, through the anguish of seeing their baby sister laid to rest.
'It's been the hardest thing to talk about as there is no angle, no way of dressing it up; there's no glitter you can sprinkle on it, it's just cold, awful, brutish reality,' he said.
Gary is one of a number of of celebrities to open up about the loss of a child. Earlier this year, Giovanna Fletcher announced that she was backing a baby loss support campaign, after revealing that she suffered a miscarriage in 2012.
Writing alongside a caption of one of Tommy's 'Together For Change' campaign videos Giovanna wrote: 'Even though I'm part of this campaign and knew Tommy's would do amazing work editing great content together, this video still made me sob.
'As have all the other videos they've created with people, like myself, who've gone through baby loss. Miscarriage. Still birth. Babies born too soon… it's heartbreaking to think about it, but we must learn to talk about it.'
Freelance Lifestyle Writer
Miriam Habtesellasie is a freelance lifestyle writer who has contributed content to GoodTo, Woman&Home, Women and Idealhome.co.uk. Miriam is based in London and is a fan of everything interiors, she admits to being spoilt for choice living in the capital. From stunning architecture right the way through to eye-catching department store window displays, she believes there's always an angle to be found that can translate to our abodes.