Giovanna Fletcher defends drinking while breastfeeding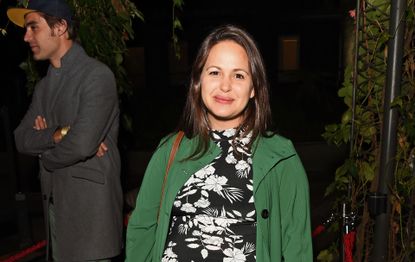 (Image credit: Getty)
Giovanna Fletcher has sparked debate after drinking a glass of wine while expressing breast milk for her baby son.
The mum-of-three, who gave birth to her third son Max just over six weeks ago, shared a photo on Instagram with the caption 'multitasking with GBBO' that showed her holding a glass of wine alongside a breast pump and bar of chocolate.
Users immediately questioned her actions, with one user commenting: 'For peace of mind, it may be best to stay away from alcohol during the first three months of your baby's life. Any alcohol you drink passes through your breastmilk to your baby. Your newborn's liver is still immature. Your baby metabolises alcohol half as fast as you can until he's at least three months old.'
Others echoed these thoughts writing: 'It is claimed that its highly dangerous for the baby and can leave longtime damage for its health. There's no tolerance for alcohol during pregnancy and breastfeeding here', 'Breast feeding and drinking is not a good thing not advised and the baby does get some of the alcohol content from the milk', and 'I normally love your posts. But I feel that is totally irresponsible.'
However, other followers sprang into action to defend the author, who is married to McFly's Tom Fletcher and has two other children with - Buddy 2, and Buzz, 4.
One fan responded with: 'You enjoy that wine lovely - it's nobody's business anyway! I enjoyed wine while I was still breastfeeding. People need to calm the hell down. Buzz, Buddy & Max are lucky to have a Mama like you', 'Killin' it Gi! And by 'it' I mean responsible motherhood!' and 'If you couldn't drink and breastfeed I definitely wouldn't have lasted this long'.
After the heated debate escalated Giovanna, who recently opened up about her older son's slower speech development (opens in new tab), responded with another comment saying: 'I never usually feel like I need to justify myself BUT... Max goes to sleep at 7 and doesn't wake again for a feed until 3. Having a small glass of wine right after he's gone to bed is fine, in my opinion. Also, unless my body is working some sort of trickery, my wine is not going to go into my mouth and straight out of my boob like I'm in a Tom and Jerry cartoon. The milk I'm expressing is not affected.
'I too have done my research and spoken to my local health professionals. I personally would never have more than a small glass - not because of my milk (I can grab some out the freezer if Max suddenly needs some), but because I don't like to feel out of control.
'We all make decisions based on our circumstances, beliefs and experience... Big love! Xxx'
According to NHS guidelines, breastfeeding mums are fine to have one to two units of alcohol once or twice a week.
One unit of alcohol is approximately a single (25ml) measure of spirits, half a pint of beer, or a small (125ml) glass of wine.
So having a couple of small glasses of wine once or twice a week won't harm your baby.
Enjoy your glass of wine Giovanna!
Aleesha Badkar is a lifestyle writer who specialises in health, beauty - and the royals. After completing her MA in Magazine Journalism at the City, the University of London in 2017, she interned at Women's Health, Stylist, and Harper's Bazaar, creating features and news pieces on health, beauty, and fitness, wellbeing, and food. She loves to practice what she preaches in her everyday life with copious amounts of herbal tea, Pilates, and hyaluronic acid.