Holly Willoughby shares rare video of her kids celebrating Pancake Day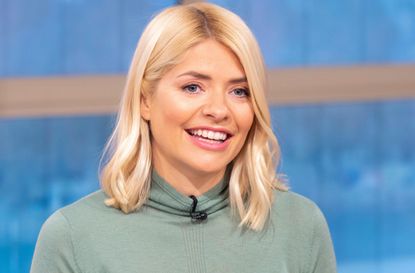 Holly Willoughby has shared a rare insight into her family life as she celebrated Pancake Day with her little ones.
The mum-of-three is usually very private when it comes to her family, but yesterday she took to Instagram to share a snippet of her Pancake Day (opens in new tab) celebrations.
In a short clip and two pictures, her daughter Belle can be seen creating fun pancakes using a pan with a unicorn outline.
READ MORE: How to make your own colourful unicorn pancakes (opens in new tab)
Holly's son Chester can also be seen creatively improvising to make an alien pancake (opens in new tab).
The TV presenter turned it into a family challenge, as the girls – Holly and her daughter Belle – were competing against the boys – Holly's husband Dan and their two boys, Harry and Chester.
She wrote in the caption: 'Pancake day challenge... girl vs boys / unicorn vs alien 🥞 🍳 👽 🦄 💛'.
Fans of the star were delighted to have a look into Holly's family life, with many commenting under the post asking who won the challenge.
One said: 'Oh how fantastic bless isn't having children wonderful always some thing to teach & always some thing to learn .....who won then ?? 😂👍💖😘xxx'
Another wrote: 'How cool, never seen these before 😍'.
While it clearly got better in the evening, Holly's Pancake Day didn't get off to the best start.
While competing against Phillip Schofield and other members of the team on the pancake tossing challenge on This Morning, the mum was trying to create a unicorn-shaped.
However, it all went wrong when her pancake landed on the floor.
We hope none of the ones she made with the kids had the same fate…
How did you celebrate Pancake Day? Did you make any with your little ones? Head over to our Facebook page and let us know!