Holly Willoughby sparks controversy after sharing rare picture with her three children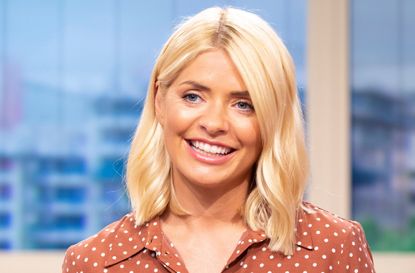 GoodTo newsletter
Sign up to the GoodTo Newsletter. You can unsubscribe at any time. For more information about how to do this, and how we hold your data, please see our privacy policy
Thank you for signing up to . You will receive a verification email shortly.
There was a problem. Please refresh the page and try again.
Holly Willoughby took to social media to share a rare picture with her three little ones, but some fans weren't too happy with the post…
The This Morning presenter (opens in new tab) shared the snap, where she can be seen posing in the jungle with her three children, to mark the end of her successful stint as Dec's co-host on I'm a Celeb.
Holly doesn't usually post pictures of her kids to protect their privacy, but they all posed with their backs to the camera.
However, the snap sparked some controversy among the TV presenter's fans, as they criticised the fact that she took her kids out of her school to take them to Australia during term time.
One said: 'Would love to take kids out of school in term time and take them on holiday, but it's illegal and gets me a big fine. Must have arranged her fine to be part of her fee. One rule for 'the few', another rule for the 'the many' or what!!! Holly you should know better. If you'd have missed your kids too much while doing the job, you could easily have refused their offer.'
Another wondered: 'Main question. How did you manage to get them out of school during term time lol… what's the secret.'
Not everyone slammed the mum for her decision though, with some defending and pointing out that the children will probably have been tutored while in Australia.
One wrote: 'Would everyone just shut up about her kids not going school, getting fined it's so boring now… who cares whether her kids are out of school. She knows what's doing…'
Another said: 'Some of the negative comments about her children not being in school! I am sure the children will have been tutored while been here with their mummy and also gaining an amazing experience, an educational experience just being there. Holly had a job to do and did it marvellously. Before negative comments are made, think… Could you leave your kids for 3 weeks? The family stayed together, no disruption for the children. I am sure most of us would have done the same.'
While Holly hasn't spoken about taking her children with her to Australia, she could have gotten permission from the school's headteacher.
The Gov.uk website reads: 'You have to get permission from the head teacher if you want to take your child out of school during term time.
'You can only do this if: you make an application to the head teacher in advance (as a parent the child normally lives with); there are exceptional circumstances.
'It's up to the head teacher how many days your child can be away from school if leave is granted.'
What do you think of Holly's decision to take her kids with her? Head over to our Facebook page and let us know your thoughts!