Holly Willoughby's This Morning replacement confirmed as Rochelle Humes
Is this who you expected?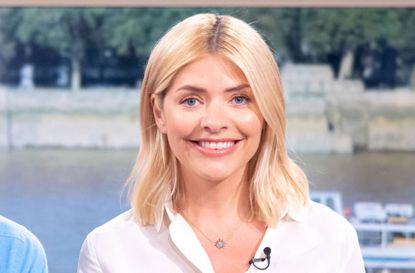 Holly Willoughby will be replaced by Rochelle Humes on This Morning while she is in Australia presenting I'm A Celebrity Get Me Out of Here.
Holly Willoughby was confirmed as Declan Donnelly's temporary presenting partner for I'm A Celebrity Get Me Out of Here back in August.
Since then there has been lots of speculation as to who would join Philip Schofield on presenting duty for This Morning for the five weeks that Holly is away.
Today it has been confirmed that Rochelle Humes will be stepping into Holly's shoes and she is delighted by her new role.
Announcing the news on today's show, Holly said to Rochelle: 'When I disappear off to the jungle, you're coming in to look after Phil!'
Mum-of-two Rochelle replied: 'I will, I'll take good care of you, I promise. I'm excited that I can tell people now. There were rumours at the weekend and I didn't reply to any of my friends. Sorry! I'm doing it! Yeah, I'm excited!'
Hilariously, as the news was shared, Holly's picture on the This Morning wall was half shredded just like Banksy's recent piece of art.
Holly exclaimed: 'I've been 'Banksy-d'! Are you kidding me?'
Just moments before, Philip had teased her by saying: 'You know, television is a cruel and fickle beast.'
Philip said he is really looking forward to having Rochelle join him and Rochelle joked that she would make sure she doesn't do anything naughty so that there is something for Holly to come back to!
Rochelle has done several stints presenting on the show before and has also stepped in to cover Lorraine Kelly's chat show when she was on holiday.
She joked that despite her experience and excitement for the role, she's never presented with 'the legend' that is Philip Schofield.
We are sure the pair are going to have a brilliant time presenting and many people online think so too.
One person tweeted: 'Good! Love her ❤❤'.
Another wrote:'With Holly's annoying voice and personality, i'll be happy with Rochelle being there instead. #thismorning'.
A third added: '#ThisMorning like Rochelle she'll be brilliant while holly is in the jungle.'
Predictably, there are also some sceptics because you can't please everyone. One person said: 'Alison would have been more entertaining.'
Another scathingly wrote: 'Oh for f***s sake Rochelle Humes is gonna be filling in for Holly when she's in the Jungle. What a surprise. Forcing her onto TV. She's got the personality of a f***ing housebrick #ThisMorning'.
What do you think about Rochelle stepping into Holly's shoes? Do you think she'll make a good replacement or who else would you have liked to see next to Phil? Head over to our Facebook page to share your thoughts!
Jessica currently works as a Senior Food Writer at Future. She writes food and drink-related news stories and features, curates product pages, tests, and reviews equipment, and also develops recipes that she styles on food shoots. An enthusiastic, self-taught cook Jess adores eating out and sharing great food and drink with friends and family. She has completed the Level 1 Associate course at the Academy of Cheese and is continually building on her knowledge of beers, wines, and spirits.