Lockdown wedding rules: how many people can attend weddings after July 19th?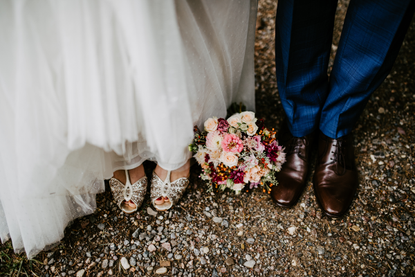 Brides and grooms will have to adhere to these lockdown wedding rules until July 19th.
The coronavirus pandemic has been a testing time for brides and grooms-to-be with several national lockdowns and government restrictions causing havoc to thousands of best-laid wedding plans.
Thankfully, hope is on the horizon, with step four of Boris Johnson's roadmap out of lockdown promising a return to normalcy for wedding receptions. Though in the meantime, husband and wives-to-be must continue to follow social guidelines that were enforced on June 21.
What will happen with weddings after 19th July?
England will enter Step Four of the UK government's lockdown roadmap on 19 July.
From this date, all remaining lockdown rules in place, including legal restrictions on weddings in England will end.
This means that weddings after 19th July will have no limit on wedding guest numbers, and those invited will no longer have to socially distance and wear face masks indoors. Singing and dancing will also return as normal at wedding receptions.
In a press conference on July 5, Prime Minister Boris Johnson confirmed that it was still the government's intention for all lockdown rules to be lifted from 19 July. But the final all-clear on whether stage four will take effect will be declared one week prior, on Monday 12 July.
Until this date, weddings in England will have to continue to adhere to lockdown wedding rules that came into effect from June 21.
The next review date for wedding restrictions in Wales has been given as 15 July. Whilst First Minister Nicola Sturgeon has confirmed that a review of Scotland's current lockdown wedding rules will take place after 19 July.
What are the current lockdown wedding rules?
The following lockdown wedding rules came into place on June 21. These will remain in place until a lift on all restrictions on July 19:
The number of wedding guests must comply with the venue's people capacity.
Face masks must be worn at indoor weddings (excluding the bride, groom and celebrant/registrar during the ceremony)
Continued restrictions on singing, dancing and musical performances remain in place
Social distancing must be maintained at all times
How many people can currently attend a wedding?
Boris Johnson confirmed that from June 21st, the 30-people limit on weddings will be lifted in England. This means that couples can legally invite more than 30 guests, as long as the number meets their venue's capacity and social distancing is maintained.
"From 21 June, there will no longer be a maximum number cap for attendees set out in law," states the government website. "Instead, the number of attendees at weddings, civil partnerships and receptions will be determined by how many people the venue or space can safely accommodate with social distancing measures in place."
Risk assessments are encouraged by the government if brides-to-be are hoping to invite over 30 guests.
If a risk assessment of a venue indoors allows for 200 guests to attend a wedding, and social distancing can be achieved - then the wedding is okay to go ahead with this number of people. And so on.
It's worth noting that the total number of wedding guests must include venue staff, performers, photographers or anyone else hired to work the wedding. Children of all ages must also be included in the headcount.
Weddings held inside a private home or "enclosed spaces" however are subject to the rule of six or two household restriction, says the government.
The only exception to this is if the nuptials are a 'deathbed wedding' - where one of the partners is terminally ill. In this circumstance, a limit of up to 30 people should be met.
Do I need to wear a face mask at a wedding?
Yes, current government guidelines state that face masks must be worn at weddings - only if held indoors. However, this excludes brides, grooms and the celebrant or registrar.
"In England, at Step 3, face coverings are required by law to be worn in many indoor settings, including places of worship," the government website states. "Attendees and staff at a wedding ceremony or reception must wear a face covering (except when eating or drinking), unless exempt."
This means that wedding guests will have to wear face masks when moving around inside the venue, but can remove them when seated at a table for food. This lockdown wedding rule follows the same restrictions currently in place at pubs and restaurants.
Weddings held outside in a garden (or heavily ventilated marquee) are not subject to the same rules on face masks.
The government states: "There is no legal requirement to wear a face covering when outdoors at a ceremony or reception. This includes when taking place in a marquee, provided at least 50% of the walled area is open for it to be classed as 'outdoors'."
While you may be required to show vaccination status to get into some events in the future, weddings are not likely to be on the list. However, always check the entry requirements for the venue or if it's a wedding abroad, the country you're visiting.
What are the current rules on dancing at a wedding?
The government has advised against dancing at a wedding due to the "increased risk of transmission". This applies to both indoor and outdoor weddings until July 19.
They do however grant an exception for the happy couple's 'first dance' as is tradition at wedding receptions.
Aside from this, "Dancefloors and other spaces for dancing must remain closed" at wedding venues. Though organisers are able to repurpose these closed spaces for additional seating, so long as it is in keeping with social distancing guidelines.
The government also stated that other common wedding customs like the cutting of the wedding cake can go ahead as usual, with social distancing in place.
What are the current rules on singing and live music at a wedding?
Communal singing indoors is advised against to prevent the airborne transmission of coronavirus. However, if singing is part of the religious ceremony, then a small group of six can perform whilst social distancing.
Live music can take place, so long as strict guidelines are met. A maximum of six performers can perform socially distanced indoors. Whilst a musical group of up to 30 performers can sing and play music at an outdoor wedding.
Stand up drink receptions at both indoor and outdoor venues is permitted. Though table service for food and drink is encouraged, with each table seating no more than six guests. Arrangements for food and drink will also have to adhere to measures outlined in a venue's risk assessment.
What are the lockdown wedding rules in Wales?
The current guidelines for outdoor wedding receptions came into effect on June 7.
They stated that the number of guests that can attend a wedding reception will depend on whether the reception is being held at a regulated business premises or a private dwelling.
Both outdoor and indoor wedding receptions with over 30 attendees can take place when it's deemed a regulated event. This means when a business has organised the wedding, or the when the wedding is being held at a regulated premises. The number of guests you can invite in this situation will be subject to the site's people capacity - determined by a risk assessment.
Weddings held at a private dwelling, like a house or back garden, are still subject to a limit on the number of guests allowed though. Those held indoors can only invite their immediate household or extended household. Outdoor weddings in a private dwelling can invite up to 30 guests. Though, this number does not include personal carers or children under 11.
As for entertainment and refreshment - table service with food and drink is advised. Whilst singing and dancing is discouraged (bar the couple's first dance).
However, there is some good news though, with a ban on live music having lifted after June 24 this year.
"Live and recorded music, including DJs are permitted at both indoor and outdoor wedding receptions," states the Welsh government website. "Providing that music is played at background level and based on the outcome of the risk assessment.
As in England, social distancing is to be undertaken throughout. And face masks must be worn by those aged 11 or over - unless eating or drinking. A face mask exception is extended to the married couple and celebrant on the day.
What are the lockdown wedding rules in Scotland?
With regards to the wedding ceremony itself, up to 50 guests can attend in a level 3 or level 2 area. Whilst up to 100 can attend in a level 1 area.
"These limits are provided the venue size and layout will permit the necessary physical distancing between households to be in place," states the Scottish government website.
Different rules apply for the reception and guest numbers are dependent on the area where the union is taking place:
These numbers are dependent on the capacity of the venue and should take into account social distancing measures. What's more, the bride, bridegroom and children of all ages are all included in these numbers. Though those hired to work at the wedding are not included in this people count from June 25 onwards.
At indoor weddings, face masks be worn by everyone (including the wedding couple), unless sitting down to eat and drink. Though one of the new lockdown wedding rules from June 28 stated that a person accompanying one of the wedding couple down the aisle "will no longer need to wear a face covering at that point in the ceremony."
As in England and Wales, there "should be no singing or dancing" in Scottish wedding receptions, bar the first dance and a dance between the parents (if they are part of the same household). Speeches are allowed, but should preferably take place outdoors.
Live music was permitted to take place at receptions from June 28 too. So long as guests "remain seated" during the performance.
Food and drink will be table service only, with venues meeting curfews on serving alcohol. In level 3 this should be 10pm. Level 2 is 10:30pm and the curfew in level 1 areas is 11pm. Those in level zero areas must follow closing times in line with licensing requirements.
The next review of lockdown wedding rules is noted as August 9, with a further ease in restrictions hoped.
What are the lockdown wedding rules in Northern Ireland?
There is no limit on the number of guests allowed a wedding ceremony or wedding reception in Northern Ireland. Instead, the guest list number is determined by a risk assessment of the wedding venue and what their capacity is.
"This applies regardless of whether the ceremony is taking place indoors, outdoors, or at a place of worship," states the NI government website.
The only exception is a marriage at a private dwelling where one partner is terminally ill. In this case, a maximum of 10 people can attend, and this includes the bride, groom and officiant.
Social distancing should be followed and face masks worn by everyone except the couple, officiant and children aged under 12.
The Northern Irish government ask brides-to-be and their party to 'refrain' from singing and chanting as this will reduce the risk of spreading the virus. One dance is allowed between the bride and groom and live music is not permitted.
Recorded music can be played in the background, so long as the volume is at an "ambient level".
Emily Stedman is the former Features Editor for GoodTo covering all things TV, entertainment, royal, lifestyle, health and wellbeing. Boasting an encyclopaedic knowledge on all things TV, celebrity and royals, career highlights include working at HELLO! Magazine and as a royal researcher to Diana biographer Andrew Morton on his book Meghan: A Hollywood Princess. In her spare time, Emily can be found eating her way around London, swimming at her local Lido or curled up on the sofa binging the next best Netflix show.