Do I have to wear a face mask in public?
They're finally being recommended...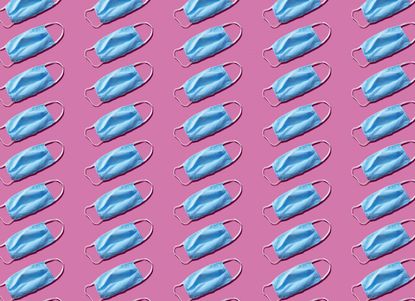 (Image credit: Getty Images)
The developing coronavirus (opens in new tab) epidemic means the new government guidelines for lockdown (opens in new tab) are constantly changing, with many businesses now open again following three months of closures.
Under strict social distancing guidelines (opens in new tab), hairdressers and barbers were permitted to open at the beginning of July, with pubs, restaurants, nail bars, spas and beauty salons having opened on July 11 and 13. Swimming pools and gyms will also be opening later in the month, on July 25. Soft play areas reopening remains a grey area and while salons are open, there are some restrictions on on what's on offer.
Good Morning Britain's Dr Hilary, who has been a trusted advisor to the public during the pandemic, offered a stark warning on face masks live on air. Dr Hilary said, "Don't do what politicians are doing, do what doctors and nurses are doing. Wear a mask, if you can't socially distance in a public indoor space. Full stop."
But what are the new rules on face masks (opens in new tab)? Where exactly should we be wearing a face covering - and how do they help? We dive into the rules on face masks in a public space.
When do you have to wear face masks in shops?
According to the latest government guidance, you must wear a face mask/face covering in shops in England from today - Friday 24th July. Those who refuse to wear a face mask in shops could face a fine of £100. This will be reduced to £50 if you pay within 14 days. In Scotland, anyone found not wearing a mask in shops will be fined £60, which will be reduced to £30 if paid within 28 days.
The prime minister himself wore a mask in public for the first time two weeks ago and urged the public to wear their face masks in shops as "extra insurance" against coronavirus. He said, on a visit to the London Ambulance Service, "The scientific evidence of face coverings, and the importance of stopping aerosol droplets; that's been growing. So I do think that in shops it is very important to wear a face covering."
Boris Johnson's statement is supported by the ever-growing research around the issue. Much of it, with the World Health Organisation leading the way, suggests that as the main way of coronavirus transmission is via small droplets from the nose and mouth. So one of the best ways to reduce the transmission is by wearing a mask covering those areas, among other measures like hand washing and maintaining physical distance.
Where do I have to wear a face mask or face covering? What shops do you have to wear a mask in?
Four months into lockdown, the government has provided some concrete guidance on wearing face masks - masks will very soon be mandatory in shops, and should be worn in other places where social distancing is difficult, such as on public transport. The rule on masks being mandatory in shops will come into force on Friday 24th July. However, you don't have to wear them outdoors - and as yet there is no clear instruction on whether face masks should be worn in pubs and restaurants.
It has also recently been announced that Brits will also have to wear face masks in takeaway shops, such as sandwich shops from now as well - despite previous government guidance stating that you wouldn't. They will be mandatory according to new legislation. Those who refuse to wear a mask in these settings mentioned could be fined up to £100.
From July 15, people in England, Scotland and Northern Ireland were required to wear face masks on public transport. The same rule will be brought into effect in Wales from July 27. Scotland enforced mandatory mask-wearing in shops (opens in new tab) from July 10.
The governments have confirmed that the mask doesn't have to be medical grade - a simple face covering (opens in new tab), whether homemade or bought, is perfectly fine. There are some stylish face masks (opens in new tab) and fun kids face masks (opens in new tab) available too.
What are the rules on wearing face masks in takeaway shops?
Takeaway shops - such as fast food venues, sandwich shops, or ice cream shops, have now been added to the list of venues where a face mask is compulsory. The government previously stated they would not be mandatory in these places.
However, a government source reportedly explained to the Daily Telegraph that wearing them is only compulsory if you are ordering at the counter and then leaving to eat elsewhere. If you are sitting in to eat, you do not have to wear a mask, allegedly. This means that eateries with table service will reportedly be exempt from the new rules on face masks.
The source said, "You have to sit down straight away if you are going to eat in. If you can sit at a table you don't need to wear a mask."
Do I have to wear a face mask in shopping centres and shops?
Yes - the government have announced that face masks will be made compulsory in all retail shops and enclosed shopping centres from July 24 2020. These do not need to be surgical grade masks, but rather a face covering that will prevent respiratory droplets from the wearer's nose and mouth from landing, and spreading the virus.
Masks or coverings being made compulsory in shops brings England into line with other countries such as Scotland - who made masks mandatory in shops from July 10 - as well as Germany, Spain and Italy.
If you're still wondering, "should I wear a mask to go shopping?", the simple answer is yes. The supermarket, for instance, is just one of the places where the government is enforcing the new rule, as it applies to all retail establishments.
However, shop keepers won't have legal powers to reject someone from the shop if they refuse to wear a mask, they can only ask them not to come in and ask them to leave. Two police forces have also confirmed that they won't be tightening the rules themselves, suggesting that it will be down to the public to ensure they are wearing face masks in shops.
Police and crime commissioner for Devon and Cornwall, Alison Hernandez, said in a statement that police officers are slowly returning to normal policing with regular numbers of officers at work. She added, "But the expectation is that they will only come if there is disorder or violence or something associated with it, they are not going to come to every phone call that someone is not wearing a mask."
However, masks still do not need to be worn outdoors - while exercising for example - in the home, or by those who might find them difficult to wear, such as children or those with general breathing difficulties. Issues such as glasses steaming up when wearing a face mask (opens in new tab) are not one of the conditions that will make people exempt from wearing a face mask.
Face masks and face coverings: know the difference
There is a difference between the words 'face mask' and 'face covering' - the latter being the word the government has opted for. A face mask is a surgical-grade mask only required for care workers or the sick. The general public is being advised to wear a 'face covering', which is simply something that covers your mouth and nose. This could be a scarf, a cloth face mask, a handmade face mask, or a piece of cloth.
MORE: How to become a volunteer for the coronavirus vaccine trials UK (opens in new tab)
Which way round does the face mask go?
If you're trying to work out which way round to wear your mask when you venture out, look no further. If wearing the disposable blue and white face masks, you should wear the blue side on the outside, with the white side on the inside - the part touching your face.
When it comes to reusable face masks, it might be a little more unclear. However, some will have a rougher side and a softer side - if this is the case, the softer side should be worn on the inside touching your face, while the rougher side should face out. Some reusable masks also have logos on them - these should face outwards.
Do I have to wear a face mask in all public spaces then?
According to government guidance, 'You should wear a face covering in an enclosed space where social distancing isn't possible and where you will come into contact with people outside your household or support bubble.' However, while we have been told that masks will be mandatory in shops and retail outlets from tomorrow, no further guidance has yet been provided on whether we should wear them in other public spaces - such as offices or leisure centres.
The World Health Organisation has explained that face masks many only be helpful for those who are unwell and showing symptoms of COVID-19, and for those who are caring for the sick - e.g. NHS workers or social care staff. Protective masks for care staff are specially designed to protect them from viruses (including coronavirus), filtering out airborne particles.
Trish Greenhalgh, professor of primary care at the University of Oxford, however told PA that she thinks the wider use of masks will be helpful in combatting the spread of the virus.
She said, "I'm delighted that the Government has changed its position on face coverings for the lay public. The science on this is clear: Covid-19 is most commonly transmitted by droplets emitted when we cough, sneeze, shout, sing and even just breathe in close proximity to others.
MORE: Can grandparents see their grandchildren now and help with childcare? (opens in new tab)
"Cloth face coverings are highly effective at blocking droplets coming out of the mouth and nose. They're not perfect, but if you can stop 90% or 95% of the droplets this will cause a very dramatic reduction in the number of people who catch the virus."
Why do I have to wear a mask in public?
Recently the World Health Organisation (WHO)'s advice has changed around the importance of wearing masks. Previously, they said there was little to no evidence to suggest that masks would help stop the spread of COVID-19, claiming that people who wore masks would relax more important measures to prevent the spread, such as washing their hands.
However, this advice changed in early June. Newer evidence showed covering you face can help to provide a barrier against 'infectious droplets' which pass between people in areas where social distancing is not possible.
Now, WHO confirms their stance that people should wear non-medical face masks or coverings in enclosed spaces where social distancing is harder. This would include shops and public transport, for instance.
Who is exempt from wearing face masks in the UK?
Although it will be mandatory for those living in England to wear a face mask in shops from July 24, there are some people who will be exempt from the rules. The full list of those who are exempt has not been published by the government yet, but it is thought that it will be similar to the exemptions allowed on public transport.
Those who don't have to wear a mask while travelling on public transport include:
People who have certain disabilities, such as not being able to put a mask on or take it off.
People who would find putting on a mask severely distressing.
People who would have difficulty breathing under a mask (e.g those with asthma)
Those under 11 years of age.
Anyone travelling with someone who requires lip reading also does not have to wear a mask.
If you are using public transport to escape danger, you also don't have to wear a mask.
Keepsafe.co.uk has designed a range of cards for those exempt from wearing a mask to carry with them on public transport, and it is thought that the same cards could be used in shops.
Do shop workers need to wear face masks?
Despite this, under the new ruling, retail staff will not be required to wear masks while working. They are another group exempt from wearing face masks inside shops.
However, Environment Secretary George Eustice told the BBC, "They [shop workers] are not being covered by this, but I think if you go into most shops you will see that staff for a longer time now have either been wearing face shields or face masks.
"It won't be a compulsory requirement because it won't always be right for every setting in a retail environment, particularly those working behind the tills and so on."
The rule, as described by Matt Hancock to MPs on July 14, is needed to protect the shop workers who have been especially vulnerable to the virus throughout the pandemic and have a higher death rate than the rest of the population.
Matt Hancock said upon announcing the news that masks would become compulsory, "Sadly, sales assistants, cashiers and security guards have suffered disproportionately in this crisis. The death rate of sales and retail assistants is 75% higher amongst men and 60% higher amongst women than in the general population."
He added, "There is also evidence that face coverings increase confidence in people to shop."
What else do I need to do to protect myself from coronavirus?
If you choose to wear a face mask or covering, it is equally important that you are also:
Regularly washing your hands for 20 seconds at a time
Practising social distancing
Not touching your face
Using your elbow or a tissue to cough and sneeze
Where to buy reuseable and washable face masks
Where to buy a face mask locally
Following the advise of the government for the public to wear masks in enclosed spaces, many local high-street stores now sell masks or face coverings. These include…
Where to buy a face mask online
The easiest, and often cheapest, place to look for a face mask is online at market places such as Amazon and Ebay. However, from places like Not On The High Street and Etsy, you can buy home-made face masks in a range of colours and designs. Vistaprint also sells re-useable masks in lots of styles and fashion brands such as ASOS are also stocking coverings. This is where to buy a face mask online...
How to make a face mask
However, it's also possible to make a face mask using simple fabric and everyday materials. Making your own means that you don't have to worry about possible contact with the virus in the store packaging, and can get hold of one easily when the rush begins to buy one as face masks will become mandatory this month. They are also cheap and easy to make.
To find out how to make your own face mask at home without the need for any sewing, follow our handy online tutorial.
How to make a face mask out of a sock
During the pandemic, people have been discovering new ways of keeping themselves safe and now, as face masks will become mandatory, more of us are wondering how to make face masks ourselves. One of those is making a face mask out of materials that you already own - such as a sock! Due to the thick material of the sock, they make a great fabric for face masks.
To find out how to make a mask out of a sock, follow our video here (opens in new tab).
Stay safe, everyone.
Amy is Senior Digital Writer across Woman & Home, GoodTo and Woman, writing about everything from celebrity news to health, fashion and beauty features. When she isn't obsessing over the latest dress drop from Marks & Spencer, you'll most likely find Amy out running, or with a cup of tea in hand ready to dive into a gripping new Netflix series.