Why maternity leave is so much harder than you think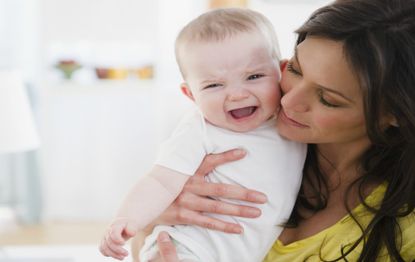 Maternity leave is not all cake, coffee and walks in the park with cute babies...
OK, so those elements may be present during an expanse of maternity leave, but looking after a baby is hard work.
So much so that a study has concluded that 30 per cent of new mums didn't enjoy maternity leave as much as they thought they would.
When the end of nine months is in sight, and it comes to starting maternity leave people will joke to the mum-to-be; 'are you looking forward to some time off'. And everyone politely laughs along.
But the stark reality is that maternity leave is hard work. You are left at home with a demanding little boss, no hand-over notes or predecessor to turn to for help.
And even if you do all the advised NCT courses and make the obligatory 'mummy friends'. Early motherhood can still be very lonely.
The stats back that up with a whopping 59 per cent of mums admitted to feeling lonely while 49 per cent felt obliged to be positive about time spent with their baby. This is according to a ComRes poll.
How to cope with returning to work after a baby
The study, commissioned for the Emma Barnett Shoe on BBC Radio 5 Live, also showed that 30 per cent of mums aged 34 and under didn't enjoy maternity leave as much as they thought they would.
While Emma Barnett, 5 Live presenter has returned to radio presenting this month. After the birth of her son and eight months maternity leave.
Emma shared the below images on her Instagram account saying 'she felt like a stranger in her own life'.
Emma admits that she has some of the loveliest memories while on maternity leave but it's still been hard.
'I have had some of the... more memorable times of my life during my maternity leave. But it's still been bloody hard, and, at times, lonely,' she admitted.
'As the one at home, you struggle to have a sense of self, to remember who you were, and what you thought about before your child came along.
She goes on to urge women to not feel guilty, 'There should be no guilt in saying you find maternity leave hard.
'That you don't enjoy every single second with your child, and that it's exhausting.
'It's OK to to say you love your new baby, but that you don't love your new existence yet.'
This is a sentiment that Anne-Marie O'Leary, editor in chief of Netmums agrees with.
'We need to start talking more honestly about maternity leave and everything it entails.
'It's a job, not a holiday. And a pretty tough job at that. There aren't many jobs where you're on call morning, noon and night, 24/7, with no holidays.'
'We dress it up as being a holiday filled with nothing but hugs and coffee mornings. When the reality is lots of manual labour on very little sleep.'
Stephanie Lowe is Family Editor at GoodTo covering all things parenting, pregnancy and more. She has over 13 years' experience as a digital journalist with a wealth of knowledge and experience when it comes to all things family and lifestyle. Stephanie lives in Kent with her husband and son, Ted. With his love of choo-choos, Hey Duggee and finger painting he keeps her on her toes.