Maternity leave: how to cope with returning to work after a baby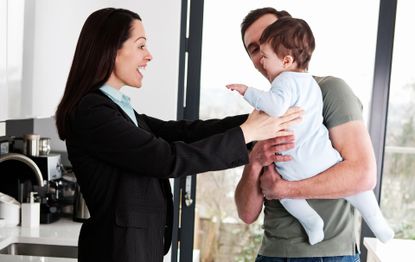 (Image credit: Alamy Stock Photo)
Are you thinking of going back to work after having a baby (opens in new tab), or wondering when to go back after maternity leave? Leaving your baby is an emotional time and mums can often find themselves wondering, how soon is too soon?
The One Show presenter Alex Jones recently revealed how she regretted going back to work so soon after having her first child.
The TV host admitted her decision badly affected her confidence, forced her to give up on breastfeeding (opens in new tab) earlier than she would have liked to and caused her to miss out on significant milestones in her baby's life.
Alex gave birth to son Teddy last year and describes her return to work three months later as a 'nightmare'. Speaking on her podcast, Happy Mum, Happy Baby, Alex said: 'I went back too soon. I was still trying to feed and going back to work.
'After a meeting I'd try and express, then go into the rehearsal, and go back and try and express a little bit more, and my milk was in the fridge with all the food being given to the guests! I was like, this is not working, this is a nightmare.
'It destroyed my confidence in terms of trying to feed. So, by four months I had to give in to formula completely. I was combining but it just wasn't working.'
Alex also admitted to sometimes being jealous of her baby's nanny, Jess, while at work. 'She's wonderful in so many ways and we love her, however there is still that feeling that I want to be doing the things that she's doing with Teddy.
'And it's really tough. I remember the one where he crawled for the first time and she'd sent a video of it to Charlie (Alex's husband) and I. And both of us were crestfallen, thinking – I wanted to see it!'
Sky Sports presenter Natalie Pinkham has also revealed she went back to work 'too soon' after the birth of daughter Willow - returning to screens just three weeks after her daughter's arrival.
Speaking to Fabulous magazine, Natalie said: 'I had to do some work when Willow was three weeks old. I couldn't even remember my own name and was a mess.
'A lot of make-up was required and I literally just sat there and read an autocue. It was too soon actually. I think we put ourselves under ridiculous pressure.'
When is the right time to go back to work after having a baby?
Often financial necessity drives mums back to work. They've used up all their maternity leave, paid holiday and unpaid holiday and may start to worry that the family will be forced to make some serious cut-backs if they don't start earning a proper wage again soon.
Emily from London went back 12 months after her son Zac was born. 'I remember feeling a mixture of fear and excitement at the thought of going back to work,' she says. 'I was dreading leaving Zac behind – and on my first day I remember trying not to cry for the whole train journey in.
'It helped that I'd been able to phase in my return. I started with a couple Keep in Touch days when Zac was eleven months old, then used up holiday to go in two days a week initially, then three, then four.
'I asked my husband if he could look after Zac on my first couple of days in, so that I wouldn't be fretting about him while I was already an emotional wreck. And I'd done a lot of prep work in finding a childminder that I really liked. She was warm and motherly and on the days Zac later went to her, I know he had a lovely time.'
Jane, from Bristol, also experienced separation anxiety after returning to work when her son was six months' old. 'I found it really hard leaving Jack at such a young age,' says Jane. 'But what helped was having brilliant childcarers in place, so I knew he was in safe hands when I couldn't be there.
'We couldn't afford a full-time nanny but we were lucky because we had grandparents living close by and had worked out a rota system of childcare with them. My husband was also working a four-day week so he could look after our son on one of the days I was working.
'Gradually, as Jack got older, we slowly introduced nursery mornings, to help socialise him – and he thrived among little ones his own age, so we stepped this up to full days twice a week before he started school. By the time he went to our local primary, he was ready and it was a good transition into education.'
When to go back to work after maternity leave: the psychologist's view
The transition back to work is particularly hard after a first baby, says coaching psychologist and author of Brilliant Career Coach, Sophie Rowan.
'When you have a baby, you enter a different head space. Essentially, you're flexing a different set of muscles when you're on maternity leave. Going back to work, you almost have to relearn your work persona.'
Work and organisational psychologist Patricia Murray agrees and says most women will feel anxious about re-entering the workplace after maternity leave.
'The smart ones are apprehensive,' says Patricia. 'It's an adaptive emotion. They're foreseeing difficulties in advance, knowing they'll need to adapt. It's a way of getting ready.'
Some mums worry that they'll be put into a different role when they go back to work, or they're anxious that their maternity cover might have been better then them at their job.
'Many mums return feeling unsure, threatened and fearful — it's generated by lack of confidence,' says Sophie. 'They wonder if they'll be able to operate like they did before.'
Their fears aren't groundless — the world of work can often moves at a frenetic pace in many organisations and returnees can be expected to get comfortable fast with change. Many women return to a changed environment with new people, processes and rules.
So how should mums prepare for re-entering the workplace?
Twelve ways to make returning to work after maternity leave easier:
1: Make sure you are 100 per cent happy with your childcare
The most fundamentally important rule of all. Knowing your baby is in great hands when you can't be there will help you to feel less anxious about returning to work. If you can, ask your partner or a parent to look after your child in those first few days, so you know they are with someone who loves them while you're adjusting to work life yourself.
2: Do your research
When looking for professional childcare for your little one, make sure you visit a minimum of three childminders, nurseries or nannies and take recommendations from friends. You need to feel absolutely confident in your baby's carers while you are at work. Make sure you do taster sessions with your child, leaving them with the childminder/nursery/nanny for short periods initially, like an hour, then stepping this up to two hours, a morning – and so on.
This way your baby learns that mummy always comes back – and he or she gets to establish a relationship with their new carer while you are still on maternity leave.
3: Ease yourself in
Use holiday accrued during your maternity leave to phase in a return to work, gradually building up to your working week. Aim to begin your return mid-week too, so that you only have a couple of days before your first weekend break. It will help you feel less tired, emotionally and physically.
4: Stay in touch with a work friend while you're off
Catching up with work friends on office gossip can make the transition back much easier as you'll get a good idea of what's been going on while you've been away.
5: Use your Keep-In-Touch days
Many companies will pay employees extra for using their KIT days while on maternity leave – and using them to meet colleagues for coffee or popping into the office for an afternoon can ease the transition back.
6: Find a like-minded buddy
A buddy system, where the returnee gets to meet and chat with a colleague who's been through the same situation herself, can be a real practical support. Realising you're not the only one is a good counter to feeling overwhelmed.
7: Take up offers on flexibility
If a manager asks if there's anything she can do to make your first day easier, ask if you can come in at 10am. It could really help to have a little extra time on that first morning while establishing new routines.
8: Plan for illness
When children first start nursery, they often start picking up infections and asking for time off in those first few weeks can be awkward. If possible, agree with your partner or a family member that they'll take time off for the first few sicknesses to take the pressure off yourself.
9: Get everything ready the night before
Outfits for children, clothes for you, lunches for both, make sure it's all organised when you have quiet time in the evening. Tasks that take five minutes by yourself somehow become a stressful nightmare when your rushing about with the kids in the morning.
10: Know your rights
If you're anxious about returning to your old workplace, and worry things may have completely changed, remind yourself that you are protected by employment laws (opens in new tab). If you return to work within the first six months – or 26 weeks – you have the right to return to exactly the same job you had before you took maternity leave. If you return in the second half of the year then you have the right to return to the same job, unless it is no longer available. You must still be placed in a similar job with the same pay or conditions.
11: Look after yourself
Don't stay up until midnight catching up on social media or household tasks if you've got to be up at the crack of dawn. And don't overstretch yourself with big nights out in the first couple of weeks back, if you're lucky enough to get half a chance! Take the time to relax, you're going through a major adjustment that is tiring enough without any extra stress. Treat yourself to take-out and a movie, or indulge in a mid-morning cappuccino, the little things all help at difficult times.
12: Give yourself a workover
Nothing aids a return to work like new clothes. Shallow maybe, but almost universally true. Treat yourself to some new office gear to make you feel confident in those first few days. And spend an hour putting together some outfits you know you'll feel great in. It'll boost your self-esteem and help you feel like a supermum when you walk into that office.
Finally, remember you're doing all this so that your baby can have a comfortable life, so try and ditch the guilt!
Senior Content Editor: Good to Know About me Hi there, I'm Nic Hopkirk – senior content editor for Good to Know. I'm a lifestyle journalist who has worked across newspapers and digital for nearly 20 years. After studying English Literature at Bristol University, I began my journalism career on local newspapers in South East London and Kent, before moving on to digital media at Emap. Since then I've worked for the Evening Standard, Daily Mail and MSN, where I was the Managing Editor for the Lifestyle group of channels for several years. After my two boys were born I decided to go freelance and have written for Good to Know, Woman, Woman & Home and Global Radio, as well as Marks & Spencer and Holland & Barrett. My specialist subjects Since becoming a mum, I've become a specialist in the subject areas of pregnancy, labour - and of course days out and activities with the kids. I am constantly on the look out for fun new things to do with my boys and while a true Londoner, I also love going out to the countryside and exploring green open spaces. I've become a member of pretty much every organisation I can think of to enjoy time in the great outdoors together as a family and my purse is packed with membership cards for the National Trust, English Heritage, Kew, Royal Palaces - you name it. I also love a good outing to a castle, so naturally I'm also a member of our two nearest establishments - Leeds and Hever. I love cycling to work and when I get some me-time I also love a good shop - most of which is done online these days! I'm really looking forward to sharing all of my knowledge with Good to Know's readers.