Grieving mum warns of dangers of co-sleeping after losing baby daughter
This is so sad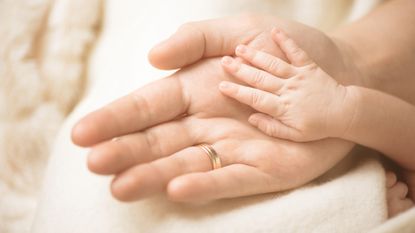 (Image credit: Alamy Stock Photo)
A devastated mother has issued a warning to parents over the dangers of co-sleeping, after the death of her newborn.
Savannah Struchen from Indiana in the US had placed her 10-week-old daughter Abigail Brooklynn Hensley into her large bed with her to get some much sleep. But tragically Abigail was never to wake up, passing away as she lay beside her mother.
Savannah took to Facebook to share her harrowing story, revealing that 'she had been assured by relatives, friends, and strangers on Facebook' that that they had all co-slept with their babies 'and their babies are fine'.
She also highlighted that she'd spoken to others about the Safe Sleep 7 - a guidance poster on 'safer bedsharing' from La Leche league International, and international organisation which has a primary focus of providing 'a new parent with the confidence they need to breastfeed (opens in new tab) their baby'.
She shared that it outlines the following: 'That it's safe to bedshare as long as mom breastfeeds, doesn't smoke, doesn't take drowsiness-inducing medication and isn't under the influence, isn't overweight, uses light blankets and minimal pillows, has a firm mattress, isn't overtired…'
But despite the above, Savannah urged parents to consider the fact that there are 'so many minute variables, that if one thing is amiss, baby could die'.
Continuing she added: 'Most moms don't think about the fact that they will be an UNCONSCIOUS adult weighing so much more than baby, and that a baby's suffocation is silent.
'Most moms won't think that a baby will be completely helpless to get themselves out of a suffocating situation. That mom, or dad, or a sibling that also shares mom's bed, might roll...or even drape an arm or another body part over baby. That a pillow (opens in new tab) or blanket might shift and wind up over baby's face.
'You know how I know all this? Because I *was* that mom.'
https://www.facebook.com/sillystarlight/posts/1421315961364475
In every parents worst nightmare she woke up to find blood on her shirt, which had come from Abigail's nose and when she went to pick her up, to her despair she was as 'limp as a rag doll'.
Her husband rushed into the room to find her crying and screaming, and after calling 911, CPR was attempted. Abigail was then taken to hospital in an ambulance, but ultimately it was too late.'
Going onto make a heartbreaking appeal to parents she wrote: 'I wish I hadn't taken that risk.
'I wish I'd listened.
'Please listen to me and don't let Abby's death be in vain.'
Paying tribute to her daughter memory she added: 'RIP Abigail Brooklynn Hensley...fly high babygirl. 11/10/16 - 01/21/17.'
Freelance Lifestyle Writer
Miriam Habtesellasie is a freelance lifestyle writer who has contributed content to GoodTo, Woman&Home, Women and Idealhome.co.uk. Miriam is based in London and is a fan of everything interiors, she admits to being spoilt for choice living in the capital. From stunning architecture right the way through to eye-catching department store window displays, she believes there's always an angle to be found that can translate to our abodes.