Nadiya Hussain fights back tears as she reveals adorable 'get well soon' gift from her son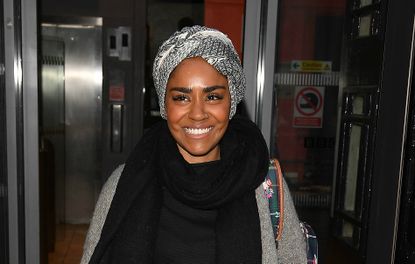 Great British Bake Off winner Nadiya Hussain has posted a video on Instagram detailing her son's thoughtful gesture.
Nadiya Hussain has shared an emotional video revealing her son's thoughtful gesture while she was suffering from a bout of sickness.
The video, which was posted to Instagram, shows a homemade card with the note, '4 U MA', sweetly written across it. Nadiya then reaches out her hand to lift the A4 paper card, revealing an inhaler and a chamber hidden underneath.
The Great British Bake Off star elaborates on the story behind the cute but rather unorthodox gift in the video, explaining: 'I've been feeling pretty poorly the last couple of days and I came upstairs to bed to run a bath.'
Nadiya then explains her discovery of the gift: 'At the end of the bed I've got this note that says '4 u ma', and check this out, underneath, an inhaler and a chamber.'
'I've had a horrible cough and he thought that might help - and I'm not even asthmatic.'
Nadiya Hussain shares emotional video after suffering 'scary' panic attack
Nadiya sounds as though she is fighting back tears as shares just how touched she is by her son's sweet gesture: 'And now I'm a total mess.'
The Bake Off winner shares three children with her husband Abdal, with the eldest being Musa, 12, followed by 11-year-old Dawud and Maryum, eight. The letter was written by Dawud, who concluded the note by signing off in brackets, 'the cool one' (Aww!!!)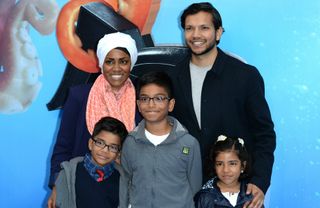 Nadiya provides more detail in the caption of her video as to why she was so taken aback by Dawud's sweet surprise, by writing:
'We look after our families without a thought for ourselves. We carry on. But this morning the kids were devastated at the loss of my voice, inability to walk straight and barking cough. I could see the confusion in their faces. Like 'how can she be ill'? 'I was doing okay 'til I saw this note. I had a long cry. I'm not used to being looked after or cared for. I'm not used to being thought about and I'm not used to being at the top of the list.'
She continues: 'That note means he thought about me, nobody else. It's a weird feeling but I did something good in my life and I see that in my children. I was feeling sad and sorry for myself. But I feel blessed and grateful for all that I have tonight.'
The video, which has been viewed over 40,500 times, was flooded with messages from fans who sent love and blessings to Nadiya and her sweet family.
One fan commented: 'Hope you get better soon Nadiya. It sounds like your children learnt from you the art of being thoughtful and kind'
Another user shared their own adorable anecdote about a selfless gesture made by their child: 'Awww. I recently looked back at some pictures of my son sending me notes while I was in the hospital (kidney failure)'
'This same son nursed me back to health after my transplant by making me salmon and veg which I love.'
Another fan expressed all of our sentiments by commenting: 'This melted my heart.'
There's no better lesson to teach your child than the one that kindness is cool. Get well soon, Nadiya, it looks like you're in good hands!
Parenting advice, hot topics, best buys and family finance tips delivered straight to your inbox.
Freelance Lifestyle Writer
Niamh McCollum is a freelance lifestyle writer who has written for Future titles GoodTo and Marie Claire UK, plus the Irish Independent. The Dublin-based journalist specialises in stories
affecting families - from health updates, to the freshest parenting debates and celebrity announcements.