Jack and Mia are the naughtiest names according to new study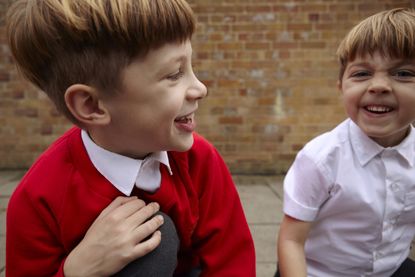 Goodto Newsletter
Parenting advice, hot topics, best buys and family finance tips delivered straight to your inbox.
Thank you for signing up to GoodTo. You will receive a verification email shortly.
There was a problem. Please refresh the page and try again.
Would a rose by any other name smell so sweet? Well, if your little boy is called Jack than he definitely isn't coming up smelling of roses when it comes to his behaviour.
According to a recent study, if you have a son named Jack or a daughter named Mia, be prepared – they're apparently the naughtiest names out there.
During the study, by MyNameTags and CensusWide, 1,500 teachers, parents and children were asked to rank twenty of the most popular girls and boys names in the UK by how well behaved or naughty they thought they might be.
And it seems there are plenty of naughty Jacks out there, with 23% of voters believing boys with this popular name are the most likely to misbehave.
Boys named Harry, Connor, Daniel and Tyler were also thought to be the most mischievous.
While girls in general were considered less trouble, those with the name Mia were more likely to be badly behaved.
READ MORE: Could these baby names make your little one rich and successful?
The kids expected to always be on their best behaviour were those named Arthur or Grace, with just 4% expecting naughtiness from them.
And it's more bad news for Jack and Mia, with a staggering 96% of those polled putting them at the bottom of the list for intelligence.
"Someone's first name can really paint a picture of what they are like," said Lars B. Andersen, Managing Director of My Nametags. "It was interesting to discover that these stereotypes are formed from a young age, with children and adults quick to make judgements about children based on their first name alone."
"These beliefs can make the difficult task of naming a child even more challenging, but we hope that our research will help give expectant parents an insight into society's opinions of the most popular boys and girls names in the UK right now."
Naughtiest boys
1. Jack 2. Harry 3. Charlie 4. Oliver 5. George
Naughtiest girls
1. Mia 2. Ella 3. Isabella 4. Amelia 5. Sophia
Best behaved boys
1. Arthur 2. Noah 3. Oscar 4. Muhammad 5. Leo
Best behaved girls
1. Isla 2. Ava 3. Grace 4. Olivia 5. Emily
Parenting advice, hot topics, best buys and family finance tips delivered straight to your inbox.