New Year's Day superstitions: What are they and where did they originate?
There are so many New Year's Day superstitions but where did they come from and is there any weight to them?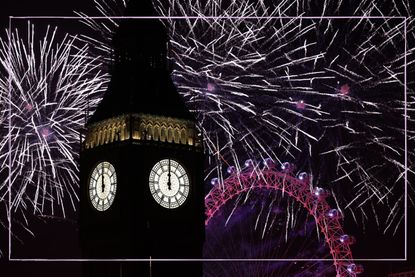 (Image credit: Dan Kitwood/Getty Images/Future)
Whether you're planning on staying in bed to nurse the very first hangover of 2023, or you're up and about planning to start as you mean to go on, you might want to check you're not breaking any New Year's Day superstitions - because there's a lot of them.
Once the New Year's Eve tradition of wearing novelty glasses and giving kisses at midnight is over, it's time to step into the superstitions of New Year's Day. There are so many New Year's superstitions and accompanying folklore from around the world that you might or might not be familiar with, but will likely want to adhere to. Here we explore some some popular New Year's Day superstitions and explain their origins.
And New Year's Day isn't the only superstitious day of the year. There's the unlucky Friday 13th (opens in new tab) too and it's also tradition to say 'white rabbits' on the first of each month (opens in new tab).
Why is cleaning on New Year's Day bad luck?
Cleaning on New Year's Day is seen as bad luck, with several traditions, superstitions, myths, and old wives' tales saying that to do so would cause you to wash away or remove good aspects of life. One tradition says that doing clothes washing on the first day of the year could even 'wash away a loved one,' meaning that someone you know may subsequently pass away in the coming year.
Another says that washing up on New Year's Day will simply 'wash away good luck'. Similarly, sweeping the floors could also sweep away good fortune.
Even emptying the bins should be avoided on New Year's Day. Some superstitions says that removing anything from the house on the first day of the year could cause your prosperity to disappear.
It is unknown where or when the tradition of avoiding housework on New Year's `day originated, but that hasn't stopped people following it for years. While they're all mere superstitions, any suggestion to avoid cleaning the house will be welcomed with open arms.
Why should you avoid crying on New Year's Day?
According to superstition, crying on New Year's Day is said to set the tone for a year full of sadness and sorrow. Even if you're shedding tears of joy, the act of crying for any reason is believed to set a bad tone for the coming year.
While the origins of this superstition are unknown, there is a Chinese superstition that may have influenced this western belief. The Chinese superstition states that the cry of a child on New Year's will bring bad luck to the family, so parents do their best to keep children from crying by whatever means possible.
What to do for good luck on New Year's Day.
While there are plenty of things to avoid doing on New Year's Day to avoid bad luck, there are an equal amount of the things to do to welcome in good luck. One simple tradition, which originated in Brazil and is now adhered to around the globe, is to wear white in order to promote peace of mind for the year ahead - it's worth a shot!
If you can manage to get yourself out of bed and to the nearest cash point, the venture may be worth your while. According to one superstition, simply keeping cash in your purse or wallet will encourage financial stability and prosperity for the next year.
If you're hoping that 2023 will be full of adventure and are planning to travel abroad to see some of the world's sights, this Colombian tradition is a must. The tradition encourages people to take an empty suitcase for a stroll around the streets to channel good fortune for your upcoming travels.
A rather practical South American superstition encourages people to stock their kitchen cupboards. The myth states that having your pantry or kitchen cabinets filled to the brim on New Year's Day signifies good luck and will ensure that you and your family to avoid hardship or poverty in 2023.
If you're New Year's didn't go to plan, or if you're simply looking to blow off some steam, this tradition is the one for you. While it's slightly crazy, this Danish traditions allows you to banish bad spirits and say goodbye to any negative vibes from the previous year. According to the myth, all you need to do is head to a friend's house and, with their permission of course, smash an old plate on their door.
The act is said to be one of affection and friendship. And, in fact, New Year's Day may be the only day of the year where it's a good sign to open your front door and find a large pile of smashed china because it means you're loved by many. And, though we doubt you need telling, the people of Denmark always use plates that are already cracked or damaged instead of ruining their new porcelain.
Royal News and Entertainment writer
Charlie Elizabeth Culverhouse is royal news and entertainment writer for Goodto.com. She began her freelance journalism career after graduating from Nottingham Trent University with an MA in Magazine Journalism, receiving an NCTJ diploma, and earning a First Class BA (Hons) in Journalism at the British and Irish Modern Music Institute. She has also worked with BBC Good Food and The Independent.