Off-grid parents defend not vaccinating their children on This Morning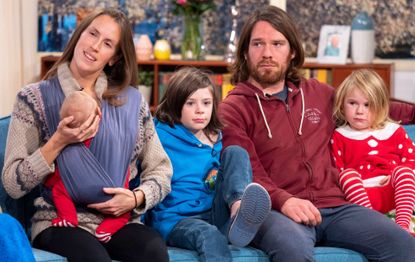 Off-grid parents, Adele and Matt Allen are back on our screens defending their 'unconventional parenting' style, which includes refusing to vaccinate their children.
The couple, from Hove in East Sussex, made headlines two years ago with their off-grid style of parenting when their then one-year-old took a wee live on ITV's This Morning.
They are now back in the headlines after admitting that they refuse vaccinate their three children: two-month-old Kai Autumn, Ostara, three, and seven-year-old Ulysses, instead opting for 'natural remedies'.
The 35-year-old parents believe in an all-natural approach to living, shunning school and modern medicine.
When pregnant with their youngest, they had no medical intervention or scans, very similar to 'free birthing (opens in new tab)'.
https://www.youtube.com/watch?v=tG7YT6JFY1Y
Asking about their family routine, This Morning host and mum-of-two, Rochelle Hume spoke candidly about her own daughter's bed time – revealing that they wind down from 7-7.30pm.
Adele admitted that they let the children listen to their own bodies for when they're tired, with son Ulysses, 7, sometimes not going to bed until 9pm.
Mum films herself giving birth next to playground in her garden (opens in new tab)
The couple, who describe their parenting not as off-grid but more unconventional, then revealed that none of their three children are vaccinated.
Fellow host Phil Schofield asked the parents if they were being selfish for 'not setting the kids up correctly for going out into the outside world.'
Explaining her decision, mum Adele said that she has done plenty of research.
'I've watched hours of footage, of doctors and holistic healthcare practitioners talking and it all makes perfect sense to me now,' she said.
And, it's not just vaccinations that they stay away from. When it comes to treating any illness, the couple revealed that they would rather use natural remedies and holistic healthcare over any form of modern medicine.
Viewers were divided by the family's decision to not vaccinate their children, taking to both Twitter and Instagram to express opinions.
One viewer said: 'I can't stand parents who don't vaccinate their children because they've 'done their research'. A few books and internet articles don't come close to years of university, medical school and placements. Homeopathy doesn't cure polio or measles, you utter prat. #ThisMorning'.
Another commented: 'I was all up for these off the grid parents on #ThisMorning for parenting how they want but as soon as they mentioned not vaccinating their children... WTF'
This viewer wrote: 'Hate being judgemental but those parents who choose not to vaccinate their kids are selfish to other children . P***es me off so much. She's well informed from watching some programme on tv.... oookkk then luv #ThisMorning'.'
Another viewers simply wrote: 'Oh and just to top it off they are anti vaxers get them off our screens!'
Many were defending the family's decision however, 'If it works for them as a family and they're not harming their children then why not let people parent how they want to. Babies don't come with a rule book or manual...'
'Best of luck to them! Natural remedies all the way, whenever I feel a bit under the weather I give my body loads of ginger and garlic packed food and turmeric soya milk and it works so well!!' Added another viewer.
While another simply commented: 'Think they have the right idea'.
What do you think about the off-grid parenting approach? Head over to our Facebook page and let us know.