Parents spend around 40 hours a week worrying about their children
Can you relate?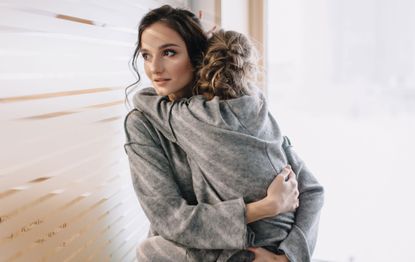 A new study has found that on average parents spend around 40 hours a week worrying about their children – can you relate?
When you become a parent you experience an overwhelming sense of love that you never new existed before.
And while this is lovely, it's also possible you feel the most stressed, tired and worried than ever before too.
As the love you feel for your child intensifies, do you also find that you're worrying more and more? Well, according to a new study carried out by OnePoll and Lice Clinics of America, parents spend on average 37 hours a week worrying.
Everyone says being a parent is a full-time job and this proves it!
The top two concerns that parents dwell on are their child's safely and happiness.
Closely behind these, 43 per cent of the 2,000 parents polled said they were worried about their child being bullied, 41 per cent said they worried their child wasn't keeping up at school and 36 per cent revealed they worried about their child fitting in with others.
What to do if your child is being bullied (opens in new tab)
Other concerns included their child's eating habits and catching head lice.
All of the topics listed are very common and it's important to remember that you're not the first parent to have these concerns and you won't be the last. It's all part and parcel of having children!
Back to school: top tips on how to make friends for kids (and parents!) (opens in new tab)
Over 70 per cent of the parents admitted that their worries and concerns are heightened when the kids go back to school, especially if it is their first ever day.
Speaking to friends and family may help put you are ease, as will making sure you have an open relationship with your kids so that they can tell you straight away if they have any worries.
How many hours of the day do you spend worrying? Has it eased up as your children have grown older or do you find yourself worrying about new things everyday? Head over to our Facebook page to join the conversation, we'd love to hear what you have to say!