Iceland's Rang-tan is now on sale to raise money for charity following controversial Christmas advert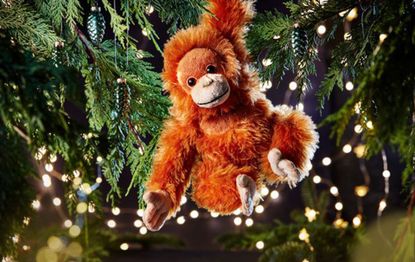 (Image credit: Iceland)
Rang-tan is Iceland's newest Christmas toy, a cuddly baby orangutan being sold to raise money for charity after their controversial Christmas advert was banned.
The Christmas campaign, which the frozen foods company used to try and raise awareness of the negative effects of using palm oil in the production of food and cosmetics, was banned by advertising regulators for being 'too political' for broadcast.
The controversial animation, dedicated to the '25 orangutans we lose every day', highlights how the destruction of the rainforest impacts the endangered orangutan population in South East Asia.
https://www.youtube.com/watch?v=JdpspllWI2o&feature=youtu.be
It introduces an orangutan named 'Rang-tan' and tells his story of losing his family and being driven out of his home in the rainforest, as a direct result of companies burning it down for the production of palm oil.
Although the advert was banned on television, Iceland are determined to spread their message in other ways, as they announced that they would be removing all palm oil from their products by the end of the year.
So as well as sharing the video across social media, they are also now offering an exclusive Rang-tan cuddly toy for Christmas to emphasise the issue.
Shoppers can get their hands on the adorable cuddly toy in stores for only £5 and profits from its sales will go towards supporting an orangutan charity that helps rehabilitate orangutans who have been badly affected by plight in the rainforest and left without any parents.
Fans of Rang-tan have gone mad for the cuddly toy and have shared photos of him settling into homes across the country – he even has his own Twitter page!
Iceland's managing director Richard Walker said about the retailer's campaign: 'Throughout 2018 we have led the retail industry to take action in areas such as rainforest destruction for palm oil.
'This year we were keen to do something different with our much anticipated Christmas advert. The culmination of our palm oil project is offering our customers the choice of an orangutan friendly Christmas, and we wanted to reflect this in our advertising.
'Whilst our advert sadly never made it to TV screens, we are hopeful that consumers will take to social media to view the film, which raises awareness of an important global issue.
'Our commitment to help protect the home of orangutans remains extremely close to our hearts. We are proud to be encouraging consumers to make more sustainable choices.'
Will you be getting a little Rang-tan this Christmas? Head over to our Facebook page and let us know!
Aleesha Badkar is a lifestyle writer who specialises in health, beauty - and the royals. After completing her MA in Magazine Journalism at the City, the University of London in 2017, she interned at Women's Health, Stylist, and Harper's Bazaar, creating features and news pieces on health, beauty, and fitness, wellbeing, and food. She loves to practice what she preaches in her everyday life with copious amounts of herbal tea, Pilates, and hyaluronic acid.