Sharon Marshall opens up about her battle with IVF and determination to have another baby
Sharon wants to help other women in her situation.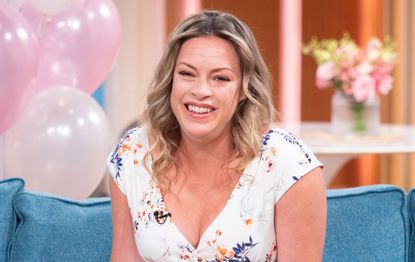 GoodTo newsletter
Sign up to the GoodTo Newsletter. You can unsubscribe at any time. For more information about how to do this, and how we hold your data, please see our privacy policy
Thank you for signing up to . You will receive a verification email shortly.
There was a problem. Please refresh the page and try again.
Sharon Marshall has revealed that she would love to have another baby despite a six year battle to conceive her first.
Sharon welcomed her first child to the world aged 46 (opens in new tab) back in July with her partner Paul.
The This Morning regular had been open about her desire to start a family and was incredibly emotional when she finally announced the happy news to Holly Willoughby and Philip Schofield.
Little did we know that Sharon and Paul had actually been trying to have a baby for six years and had endured several failed attempts at IVF and two miscarriages (opens in new tab).
The new mum has now opened up about her desire to have more children and her best advice for other people who are trying IVF in their 40s.
Writing for the MailOnline, Sharon revealed: 'The arrival of my daughter Betsey cost £70,000. I didn't qualify on the NHS in my area, where the cut-off age is 39. I was 40 when I started.'
People often ask Sharon why she didn't start trying for a family sooner and the answer is pretty straightforward. She hadn't met the right person and only met her husband Paul when she was 40.
Sharon explains that she never intentionally prioritised her career over starting a family but that's just the way her life went.
Infertility: Common causes, fertility treatments, IVF and more (opens in new tab)
She said: 'I always wanted to share the joy of a child with a partner, and when I found the right one, we couldn't conceive. We had every test to find out a cause and we still don't know why. I endured six years of IVF, with two miscarriages along the way. Year after year I sank into despair as attempt after attempt failed.'
After each unsuccessful cycle Sharon was disappointed at the lack of information available to women like her which is why she has decided to speak out.
Sharon explains that while it is difficult to have IVF in your 40s it is possible and while you should 'hope to succeed' you should also 'be prepared to fail'.
She said: 'We don't talk enough about failure rates and that's making it harder for women...The glossy marketing posters don't admit it, but the vast majority of IVF cycles fail.'
However, with women like Brigitte Nielsen giving birth in her 50s, Sharon is positive about the prospect of having another child.
She recalls that her midwife told her to wait a year before she tried again and when Sharon said she would be nearly 48 the midwife wasn't bothered – she'd seen older women conceive and give birth.
Sharon says it is important to know when to stop as well. Although she was lucky to finally have a little girl, she was ready to stop trying as it was physically and emotionally challenging.
She explains: 'People call it giving up, but it isn't. It's being strong enough to know what you can take, to give it all you've got, and then to be able to say no more.'