Sharon Marshall has given birth and reveals adorable name
This Morning's soap expert Sharon Marshall has given birth to a baby girl!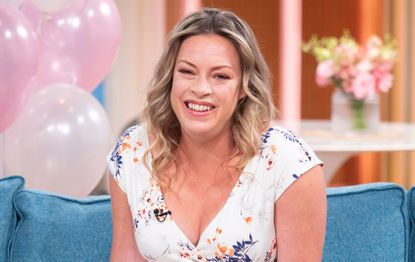 This Morning's soap expert Sharon Marshall has given birth to a baby girl!
Sharon Marshall revealed she was expecting her first child back in January while on air with Holly Willoughby and Philip Schofield.
The soap expert claims that a magic spell is what helped her to conceive her first baby aged 46 and now she's finally welcomed her baby to the world.
After initially keeping the gender a secret, Sharon has now revealed that he gave birth to a little girl yesterday afternoon.
Holly and Phil announced the happy news on this morning's show and revealed new parents Sharon and Paul's chosen baby name for their daughter.
Phil said: 'We have a new member of the This Morning family!'
Holly added: 'Yes, just a week ago to the day in fact, our Soap Queen Sharon Marshall was right here before she headed off on maternity leave, and she did not hang about - Betsey Fletcher came into the world at 1pm yesterday - and according to her parents, she is absolutely perfect in every way! And look at that photograph of all of them… a little family for the very first time.'
Philip then added a message of thanks from Sharon and Paul. He said: 'Sharon and her partner Paul would like to thank the amazing NHS staff at Queen Charlottes and Chelsea Hospital for their wonderful care throughout her pregnancy. Huge congratulations to you all, she is beautiful!'
Mum-of-three Holly gushed: 'She really is, well done, well done.'
Sharon and her partner Paul Fletcher have been together for a number of years and Betsy is their first child together.
The couple live in London and Paul works as a music marketing executive.
When Sharon first announced her pregnant she gushed that Paul was incredibly happy to be starting a family with her. She told Holly and Phil: 'Paul is really really happy, we're so thrilled, we just can't wait.'
Well thankfully the wait is over – Congratulations to Sharon and Paul on your new bundle of joy!
Jessica currently works as a Senior Food Writer at Future. She writes food and drink-related news stories and features, curates product pages, tests, and reviews equipment, and also develops recipes that she styles on food shoots. An enthusiastic, self-taught cook Jess adores eating out and sharing great food and drink with friends and family. She has completed the Level 1 Associate course at the Academy of Cheese and is continually building on her knowledge of beers, wines, and spirits.