Stacey Solomon celebrates happy family occasion with Joe Swash and baby Rex
It was a big day for her family...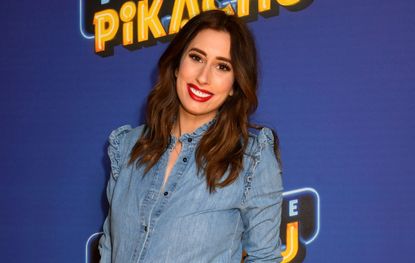 GoodTo newsletter
Sign up to the GoodTo Newsletter. You can unsubscribe at any time. For more information about how to do this, and how we hold your data, please see our privacy policy
Thank you for signing up to . You will receive a verification email shortly.
There was a problem. Please refresh the page and try again.
Stacey Solomon has revealed that her family recently celebrated a very special day.
On her Instagram stories, the mum-of-three shared that her brother Matthew recently got engaged!
She also told fans that the Solomon family held an engagement party this weekend, to mark the lovely occasion.
Stacey Solomon also told her 2 million followers that she was delighted her partner Joe Swash could be there at the celebrations - if only so that she could eat her food without having to worry about newborn baby Rex!
She joked, 'So excited Joe made it up to my brother's engagement last night! It meant I could eat with two hands'. Stacey shared the caption alongside a photo of herself, Joe and Rex, while she clutched on to a plate of food.
In her next Instagram story, she posted an hilarious video of herself and Joe singing along to John Legend's 'All of Me'.
In the video, Stacey joked that while Joe was singing the touching song to their newborn son, she was singing it to her food. We can all relate, Stace!
The Loose Women star - who is also mum to Zachary, 11, and Leighton, seven - welcomed her youngest son Rex just over two months ago.
Read more: Emmerdale's Charley Webb reveals she's left the house for first time in eight days after welcoming third baby (opens in new tab)
But in a recent social media post, she admitted to feeling emotional over how fast he's growing already.
She shared a side-by-side picture of Rex recently, and one taken soon after he was born. Stacey wrote, 'someone pass me an industrial sized box of tissues and a machine that pauses time please.
'During the newborn fuzz I would count the lines above his head to gauge if he was getting bigger (looking back I realise there are more effective methods 😂). Now there are no lines left 😭I can't believe how quickly these Ten weeks have gone by and how much he's changed.'
Amy is Senior Digital Writer across Woman & Home, GoodTo and Woman, writing about everything from celebrity news to health, fashion and beauty features. When she isn't obsessing over the latest dress drop from Marks & Spencer, you'll most likely find Amy out running, or with a cup of tea in hand ready to dive into a gripping new Netflix series.