Emmerdale's Charley Webb reveals she's left the house for first time in eight days after welcoming third baby
The actress is mum of three...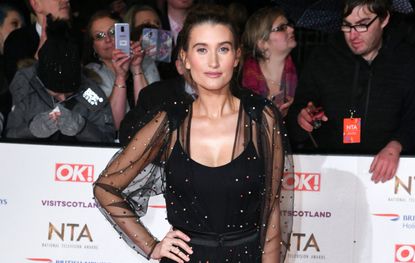 Emmerdale actress Charley Webb has shared a family update since welcoming her third child over a week ago.
The 31-year-old posted to her Instagram stories, revealing that she's finally left the house for the first time in eight days, after giving birth to the newest addition to her family.
She shared a picture of herself and her eldest son Buster, nine, writing, 'And we're out. Only taken us 8 days', alongside a baby emoji.
Read more: 'It broke me': Anne Hathaway opens up about struggle to conceive
Charley Webb announced on her Instagram five days ago that she and her husband, fellow Emmerdale actor Matthew Wolfenden, had welcomed their new baby.
Alongside an adorable picture of the bubba in a babygrow with the words 'Baby wolf' on it, she wrote, 'BaByWoLf #3 has joined the crazy gang. We're in a bubble of newborn'ness heaven🖤'.
Her current and former soap castmates were quick to share their congratulations, with Michelle Keegan saying, 'Awwww congratulations my darlin. ❤️❤️❤️ Xxx', while Brooke Vincent, who is also currently expecting, wrote, 'Ahhhhhh Charley!!!! Congratulations 💛'.
Charley Webb and Matthew had their first child back in 2010, a baby boy, Buster. In 2015, they then welcomed their second child - another son, Bowie.
The couple later married in February 2018, in an intimate ceremony which they kept private.
Just a few weeks before giving birth to her third child, Charley posted a candid message on her Instagram discussing her experience with breastfeeding.
She explained, 'I couldn't breastfeed Buster at all, it just didn't happen for us. Bowie it lasted much longer. That's ok. I must get asked a hundred times a day, 'Are you going to breastfeed?'
'The answer is, I don't know. I'm going to try and I really hope it works but if it doesn't then that's just the way it is.
'But ultimately I guess what I'm trying to say is, don't put that pressure on yourself if it doesn't work for you. It doesn't mean you've failed, it just means it's not right for you and your baby.
Amy is Senior Digital Writer across Woman & Home, GoodTo and Woman, writing about everything from celebrity news to health, fashion and beauty features. When she isn't obsessing over the latest dress drop from Marks & Spencer, you'll most likely find Amy out running, or with a cup of tea in hand ready to dive into a gripping new Netflix series.