Tesco is selling bargain kids' scooters and they'll be in stores soon!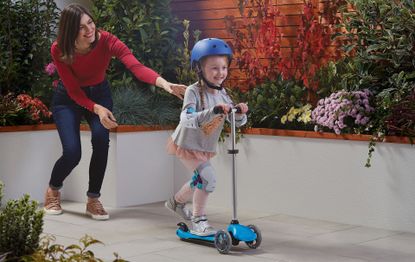 The must-have toys are less than half the price of rivals.
Good news for parents with restless little ones! Tesco has announced that Tilt 'N' Turn Scooters will be available in stores from Monday 8th April.
And in even better news, while a comparable Mini Micro Scooter will set you back a cool £67.95, these are less than half the price, at just £30 each.
Top kids' toys for 2019: The toys your little one will be asking for this year (opens in new tab)
The scooters, which are made by Carousel, are available in blue and purple and are suitable for three-to-five-year-old children. They have three wheels for extra stability, along with a non-slip deck and adjustable handlebars, so you can adapt the scooter to fit your child as they grow.
Brilliantly, the handlebar pole is detachable too, so it won't take up too much valuable storage space!
Scooters are great for developing balance, coordination and spatial awareness skills in children under five (opens in new tab). The 'lean and steer' style makes scooting quicker and easier to learn than riding a bike, because they won't have to balance and pedal at the same time.
And since they can go at their own pace and just put their foot down if they want to stop or lose their balance, it's a lot less scary for them – and for you too!
Its worth investing in some basic protective gear just in case, though. A helmet plus knee and elbow pads will give them extra confidence, and you more peace of mind.
The first thing they'll need to learn is how to push off on their own. Make sure they are looking straight ahead and not at the ground, and encourage them to start slowly and not give up.
Scooting is a great starting point for learning to steer, turn, judge distances and avoid obstacles, which will stand them in good stead when they do get their first bike.
And of course they'll have a whale of a time while they're at it – in fact, we wouldn't be surprised if you struggle to get them off their new toy!
Samantha is a freelance writer at Goodto who has been with team since 2019. Initially trained in psychology, she specialises in health and wellbeing and has additionally written for magazines such as Women's Health, Health & Wellbeing, Top Santé, Healthy, Refinery29, Cosmopolitan, Yahoo, CelebsNow, Good Housekeeping and Woman&Home.