Victoria Beckham warned by experts about the dangers of 'baby facials' after Harper got one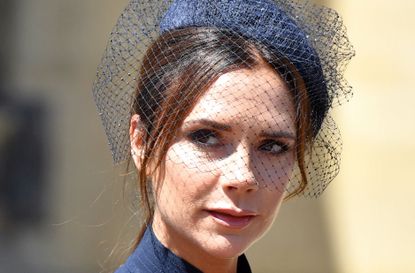 Experts are worried that beauty treatments for children could cause mental health issues later on.
Earlier this year, Victoria Beckham shared a picture of her seven-year-old daughter Harper having a 'baby facial' with Dr Barbara Sturm (who's best known for pioneering the 'vampire facial') on her Instagram stories.
But while Harper looked adorable as she relaxed on Dr Sturm's treatment bed in her paper shower cap, some people were uneasy, suggesting that Victoria might be encouraging her young daughter to grow up too quickly. With her brand new hairdo (opens in new tab), she's already well on her way to becoming a 'mini-me' version of her mum.
Worryingly, one in five girls in the UK say they are unhappy with their bodies, according to Girlguiding UK. And experts are worried that the growing trend for kids' beauty treatments could lead to them trying more extreme treatments or even wanting cosmetic surgery later on.
Children as young as three are now booking in for facials and massages, with some girls having waxing and bleaching treatments at the tender age of 11.
'It's worrying,' consultant aesthetician Sadaf Jaffari told Fabulous online. 'There has been a huge increase in interest for non-surgical cosmetic aesthetic treatments. I wouldn't encourage young girls to have facials or any treatment. I would only advise using sunblock. The younger they have a facial, the younger they may want to try something new.'
Experts are also worried that putting too much emphasis on physical appearance at an early age could lead to problems with anxiety and depression later on, and cause kids to miss out on their chance to really enjoy being children before adolescence hits.
But salon owners say that a kids' spa day is essentially a fun day out and a harmless way for little ones to bond with mum or big sister. In fact, Tru Powell, who runs Birmingham's Kandy Girl Kids Spa, says that salon treatments can actually help with self-esteem.
'The world is teaching children that self-care and self-love is important,' he explains. 'We have done facials and massages on three-year-olds, individually and for party packages', he told the publication.
'We use organic products. It doesn't necessarily do anything, other than it's fun. The kids like the smells.'
Samantha is a freelance writer at Goodto who has been with team since 2019. Initially trained in psychology, she specialises in health and wellbeing and has additionally written for magazines such as Women's Health, Health & Wellbeing, Top Santé, Healthy, Refinery29, Cosmopolitan, Yahoo, CelebsNow, Good Housekeeping and Woman&Home.