Parents are loving this video of a baby rolling down hill at rugby game that shows the reality of family days out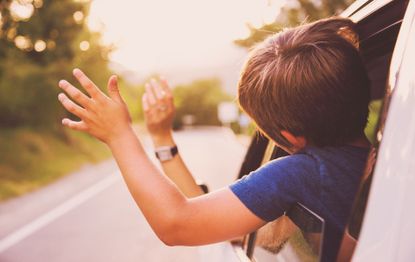 (Image credit: Getty Images)
Days out with kids are always fun, but as a mum you have to think about more than just how many extra outfits to pack.
Whether it's a group farm visit (opens in new tab), a day out to one of the UK's castles (opens in new tab), or one of the many family-friendly days out (opens in new tab) you can go on (including these 100 free things to do with the family (opens in new tab)), there's always a level of health and safety involved.
And while it's usually rewarding to spend a day out with your kids (unless tantrums arise and then suddenly leaving the house feels like a big mistake), it can be overwhelming making sure they're enjoying the day safely.
Because as tiresome as packing lunches, repeatedly changing outfits and making sure the kids don't disrupt other people's day is, constantly being on high safety alert may be the most stressful job of all.
Proving just that is a video of one mum that's gone viral, just because it's a hilarious example of the life of parenting.
https://www.facebook.com/TAFABEATZ/videos/10157097051219410/UzpfSTU3NjY3ODMxMDoyMjg4OTg1MTc3ODEwNjYz/
The video in question, which has had over 22 million views and has been shared nearly 356,000 times, shows three mums sitting on a picnic blanket with their little ones watching a rugby game. They are all accompanied by their other halves who are standing keeping watch (on the game only, evidently) behind them.
Out of nowhere, one of the babies (apparently named Fred) manages to roll over and ends up rolling down the grassy incline they are sitting on.
But have no fear because the baby Fred's mum is here.
Her maternal instincts kick in and she is up like a shot grabbing hold of her baby before he can roll any further.
The video has become a Facebook sensation, not only for the hilarious rolling baby, but because of the blasé reactions of all the other adults in the video.
While the other mums delve into fits of laughter, the three dads don't move a muscle! They can be seen, beer in hand, glancing over at the baby while they carry on with their conversation.
Facebook users have found this the most amusing aspect of the video, with comments including: ' the dads crack me up every time'; 'your baby is rolling down the hill but you just cracked open a cold one' and 'the dads are just chillin''.
At least the fast mum managed to catch him on time!
Aleesha Badkar is a lifestyle writer who specialises in health, beauty - and the royals. After completing her MA in Magazine Journalism at the City, the University of London in 2017, she interned at Women's Health, Stylist, and Harper's Bazaar, creating features and news pieces on health, beauty, and fitness, wellbeing, and food. She loves to practice what she preaches in her everyday life with copious amounts of herbal tea, Pilates, and hyaluronic acid.